Pittsburg — All this seemed to be too much, even for a New England Patriots team that always wins big games. The injuries. A second-half deficit. A Pittsburgh Steelers team determined to show it is now the AFC's best team.
Not yet, it's not - not after giving Tom Brady and Adam Vinatieri a chance to win in the fourth quarter.
The Patriots, badly depleted by injuries, withstood the longest scoring pass play against them in 15 years and two turnovers inside the Pittsburgh 10 to rally in the fourth quarter behind Brady, beating the Steelers, 23-20, Sunday on Vinatieri's 43-yard field goal with one second remaining.
"They showed us today why they're the champs," Steelers linebacker Larry Foote said.
It's also why the Patriots have won three of the last four Super Bowls.
New England, trailing for most of the game, led 20-13 late in the fourth quarter when a pass-interference call on Chad Scott on a fourth-and-11 play set up Ben Roethlisberger's second scoring pass to Hines Ward, a four-yarder that tied it with 1:21 remaining.
But that was too much time for Brady, the NFL's best late-in-the-game quarterback, and Vinatieri, its best clutch kicker.
"Our coaches always get us in situations where we can make plays," said David Givens, who made nine catches for 130 yards. "There always seems to be time for us to come back."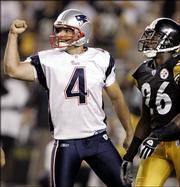 Brady, shouldering most of the offense, completed his last 12 passes and went 31-of-41 for 372 yards, and Corey Dillon, all but absent the week before in a 27-17 loss at Carolina, scored twice on short runs to help end Pittsburgh's 16-game winning streak.
Colts 13, Browns 6
Indianapolis - Edgerrin James ran 27 times for 108 yards and scored on a two-yard run, while Mike Vanderjagt made two short field goals for the Colts (3-0), who won their seventh straight home game. Peyton Manning was 19-of-23 for 228 yards and topped the 30,000-yard mark in his 115th game, becoming the second fastest to that plateau. Miami's Dan Marino did it in 114 games.
Dolphins 27, Panthers 24
Miami - Lance Schulters intercepted Jake Delhomme with two minutes left to set up Olindo Mare's game-winning field goal. Carolina's Steve Smith had 11 catches for 170 yards and three touchdowns. His 53-yard score midway through the fourth quarter tied the score at 24.
Buccaneers 17, Packers 16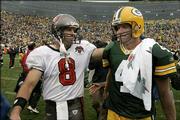 Green Bay, Wis. - Tampa Bay's Carnell "Cadillac" Williams broke Alan Ameche's NFL record for most yards in his first three NFL games by rushing 37 times for 158 yards.
Green Bay's Ryan Longwell missed an extra point for the first time in 157 attempts, and that was the difference as the Packers fell to 0-3 for the first time since Brett Favre was a sophomore at Southern Mississippi in 1988.
The Buccaneers, 3-0 for the first time since 2000, got two touchdown receptions from Joey Galloway and two interceptions from Will Allen in snapping a 13-game road losing streak to the Packers. Their last win at Green Bay came Sept. 10, 1989.
Eagles 23, Raiders 20
Philadelphia - David Akers, fighting through a strained right hamstring, kicked a 23-yard field goal with nine seconds left for Philadelphia.
Donovan McNabb, playing despite chest and groin injuries, threw for 365 yards and two touchdowns for the Eagles (2-1), while Brian Westbrook caught a TD pass, ran for a score and had 140 yards receiving. Terrell Owens had nine catches, including his 100th career touchdown.
Kerry Collins threw a 27-yard TD pass to Doug Gabriel to bring the Raiders into a 20-all tie with 2:17 left. Westbrook caught passes of 13 and 17 yards, Greg Lewis made a 13-yard catch on third-and-nine, and Owens had a 14-yard reception to set up Akers' kick.
Randy Moss had five catches for 86 yards, but didn't score as Oakland fell to 0-3 for the first time since 1992.
Atlanta 24, Buffalo 16
Orchard Park, N.Y. - Shaking off a tender hamstring he hurt last weekend, Atlanta's Michael Vick threw two touchdown passes and scrambled for 64 yards on nine carries. Warrick Dunn rushed for 97 yards, and T.J. Duckett added 75 yards rushing and a touchdown for the Falcons (2-1). Willis McGahee led Buffalo (1-2) with a career-high 140 yards rushing and a touchdown.
Rams 31, Titans 27
St. Louis - Marc Bulger threw three touchdown passes, and St. Louis survived for a turnover-filled victory. The Titans converted three turnovers into 17 points while the Rams got an 85-yard interception return from Adam Archuleta for a touchdown.
Jaguars 26, Jets 20, OT
East Rutherford, N.J. - Byron Leftwich threw a 36-yard touchdown to Jimmy Smith in overtime for Jacksonville. Leftwich went 16-of-23 for 177 yards with one touchdown and one interception. Jets quarterback Chad Pennington left in the third quarter after straining his shoulder, the same one in which he had a torn rotator cuff repaired in the offseason, but returned in the fourth when backup Jay Fiedler hurt his shoulder.
Seahawks 37, Cardinals 12
Seattle - Shaun Alexander scored twice in a 30-second span early in the third quarter for Seattle, which was scoreless in the second half in its first two games. Alexander finished with 140 yards on 22 carries, the 24th 100-yard game of his career.
Vikings 33, Saints 16
Minneapolis - Daunte Culpepper threw for 300 yards, and Minnesota (1-2) took advantage of two Saints turnovers deep in their end to take a 24-0 lead in the first half. Deuce McAllister's one-yard touchdown run with under 12 minutes left made it 24-16 before yet another mistake by New Orleans (1-2) - a taunting penalty by Dwight Smith - led to a 28-yard field goal by Paul Edinger, his third of four in the game.
Bengals 24, Bears 7
Chicago - Cincinnati, which entered the game with a league-leading 10 takeaways, picked off Chicago quarterback Kyle Orton five times and became the first NFL team in 34 years to intercept five passes in consecutive games. Carson Palmer of the Bengals was 16-of-23 for 169 yards and three touchdowns, two to Chad Johnson.
Cowboys 34, 49ers 31
San Francisco - Keyshawn Johnson caught a 14-yard touchdown pass from Drew Bledsoe with 1:51 to play to complete Dallas' rally from a 12-point deficit in the fourth quarter. Bledsoe was 24-of-38 for 363 yards, passing Joe Montana for eighth place on the NFL's career passing list with his first 300-yard game since Sept. 14, 2003.
Chargers 45, Giants 23
San Diego - LaDainian Tomlinson ran for 192 yards and three touchdowns and threw for another score to lead the Chargers on a night that left thousands of ear drums ringing, especially Giants QB Eli Manning's. Drew Brees threw two touchdowns for the Chargers (1-2).
Copyright 2018 The Associated Press. All rights reserved. This material may not be published, broadcast, rewritten or redistributed. We strive to uphold our values for every story published.