Salina — When Katie Wood died at the age of 14, her grieving family didn't know where to bury her.
The thought of having Katie cremated, knowing her ashes would be put in a plastic bag and scattered across a garbage-strewn landfill, horrified Patti Wood, her husband, Kevin, and son K.P. They discussed burying her under a favorite bush in the backyard of their Salina home but were afraid a future owner might accidentally dig up her grave.
They wanted their beloved dog, a 70-pound English setter-blue heeler mix, to be in a special place. But where?
Then a friend told the Wood family about Faithful Friends Memorial Garden, a pet cemetery in rural Dickinson County.
For just $75 to $100, the Woods found they could purchase a 2-by-4-foot or 3-by-5-foot cemetery plot on two acres of privately owned property. For another $115, they could select a customized granite headstone from Kansas Monument in Ellis or choose a metal marker for just $7.50.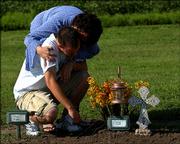 Patti Wood said the opportunity to put Katie in a real cemetery filled with dozens of other revered pets helped give her family a sense of relief and closure. "It's really hard to put into words how we feel about this cemetery being here," she said. "We know Katie will be at peace and rest well forever. For us, it's a place of love, and we don't have to worry about her grave being unsettled. Katie was a real lady, and now she's in a place worthy of her."
Part of the family
When Katie died earlier this year, her owner K.P. Wood placed a gold cross around her neck and put her dog tags around his neck.
For K.P. Wood, 22, Katie was much more than just his best friend, a pet he had nurtured since he was 9. Katie may have helped save his life.
On Nov. 17, 2001, K.P. fell down a flight of stairs and sustained a massive brain injury. During months of recovery and rehabilitation, he became violent and depressed. At times, he didn't even recognize his parents. But he always knew his dog.
"Katie came to me full of pure love and calmed me down immensely," said K.P., who eventually recovered from his injuries.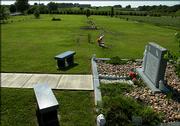 So nearly four years later, when Katie was diagnosed with a cancerous tumor in her stomach and was put to sleep, it was K.P. who supervised her burial arrangements at Faithful Friends. He and his close friend Kelly Kitchener built a large red oak casket for her, and then just before the burial, K.P. put a chain with a gold cross around her neck, which he had blessed by a priest, and then put Katie's dog tags around his neck.
"She always had these tags on, and now I'll always wear them," K.P. said. "That's how much she meant to me."
Filling a need
Like the Woodses, those who buy burial plots at Faithful Friends Memorial Garden are devoted to their pets and consider them family members.
Theda Lockhart, owner of Faithful Friends, erected a memorial in honor of her cat Puko at the center of Faithful Friends Memorial Garden. Lockhart opened the cemetery in 1999 because there was nothing like it available in the area.
Lockhart was moved to build the cemetery after Puko died in 1995 at the age of 21. When Lockhart called the city of Salina to ask where a public pet cemetery was located, she was told there wasn't one.
"They told me to put him in a plastic bag and take him to the landfill," said the 86-year-old Lockhart, disgust in her voice. "I said, 'Not my cat!' He was like a child to me, and you don't put your child in a landfill."
In 1999, Lockhart purchased 40 acres of farmland in rural Dickinson County, about 11 miles east of Salina. She kept 5 acres for the pet cemetery and sold the remainder. Two acres are being used for pet burial, with room for expansion.
Visitors are greeted at the cemetery entrance by two brick pillars, one topped by a concrete statue of a dog, the other with a cat. Near the gravesites is a large stone monument that reads, "This cemetery was established in 1999 by Theda L. Lockhart in memory of her cat, 'Puko.' May your faithful friends rest in peace in these surroundings."
Many headstones have personalized messages that convey the sense of loss and love owners have for their pets: Bandie Holmes, "Our Little Traveler"; Bandit, "My best friend and companion"; Kaiser Shaver, "I will miss you deeply"; Duke Wernecke, "We'll always love you."
Duke, a German shepherd that died in September 1999, was the first dog buried at the cemetery. Almost exactly six years later, Duke's owner, Salinan William Wernecke, buried another German shepherd, Sadie.
"I like a place like this because it's a tribute to my dogs and what they did for me," Wernecke said. "I go out there about three or four times a year and take flowers and put them around the headstone, just like a human grave. It's a nice, quiet place, and you can just sit there and reflect on what you had."
Although dogs constitute the majority of pets buried at Faithful Friends, there also are a number of cats and 29 pot-bellied pigs.
Copyright 2018 The Lawrence Journal-World. All rights reserved. This material may not be published, broadcast, rewritten or redistributed. We strive to uphold our values for every story published.