Kansas City, Mo. — With the aid of bright Missouri sunshine, the Kansas City Royals handed Cleveland a costly loss.
Indians center fielder Grady Sizemore lost Paul Phillips' deep fly in the sun in the ninth inning, allowing Angel Berroa to score the winning run for Kansas City in a 5-4 victory Sunday.
"I saw it. It was right at me," Sizemore said softly. "It just got in the sun. I knew it was going to be in the sun. I tried to wait for it to come out, and I just never saw it."
The ball bounced off Sizemore's leg, Berroa raced home from second base, and Phillips was credited with a one-out double. The heavy-hitting Indians lost for only the third time in 20 games, trimming their AL wild-card lead to a half-game over the Red Sox and Yankees, who are tied atop the AL East.
Victor Martinez hit a three-run homer for Cleveland, which also dropped 21â2 games behind first-place Chicago in the AL Central. The White Sox beat Minnesota, 4-1.
Sizemore, instrumental in a surge that has brought the Indians almost all the way back from a 15-game deficit Aug 1, stood motionless for a few seconds as the ball lay at his feet and Berroa sped home.
"I looked around, and there it was," Sizemore said. "I kind of waited maybe a little too long. Probably should have picked it up and thrown it in. But I was a little frustrated, you know."
Indians manager Eric Wedge didn't think Sizemore would have had a chance to get Berroa at the plate.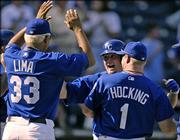 "I don't think you'd have a prayer, as deep as he was," Wedge said. "When you're staring up into the sun like that, as we all have, you're not seeing a whole lot after you pull away."
Cleveland has a day off today before finishing the regular season at home with three games against Tampa Bay and three more against the White Sox.
"We just need to go out there and keep playing the way we're playing," Wedge said.
Emil Brown had a two-run shot for the Royals, who had dropped 10 straight to Cleveland and have the worst record in the major leagues. But they snapped the Indians' four-game winning streak and avoided a four-game sweep, slowing Cleveland's playoff push - at least for a day.
"It doesn't seem to matter how far we're down. This team's going to battle," Phillips said. "Today, we fought back and got the lead and then lost it and still got it back again."
The Indians tied the score at 4 in the ninth on Casey Blake's RBI grounder, but Bob Howry (7-4) gave up a leadoff single to Berroa in the bottom half. He moved up on Joe McEwing's sacrifice.
Mike MacDougal (5-6) blew a save but got the win.
Copyright 2018 The Associated Press. All rights reserved. This material may not be published, broadcast, rewritten or redistributed. We strive to uphold our values for every story published.