Tampa, Fla. — With 360 pounds hanging on his 5-foot-7 frame, Robert Stratiff was in sad shape.
He had heart problems, poor circulation, wasted knees and sleep apnea that kept him awake most nights. Miserable at age 69, he knew he wasn't long for the world unless he did something drastic. And soon.
So in February 2002, the Colonial Heights, Va., resident had gastric-bypass surgery to lose weight, with Medicare picking up the cost. Because he couldn't eat as much, the weight dropped off faster than he could believe. Exercising got easier.
Now the retired Army colonel who flew helicopters in Vietnam is down to a svelte 170 pounds and swims a mile in the pool four or five times a week to keep fit. He's since had heart bypass surgery and a knee rebuilt. All the other medical problems disappeared with the pounds.
"I knew I was not going to make it if I didn't have that done," Stratiff, now 73, said of the weight-loss surgery. "My health was on a toboggan anyway, and it would have gone down hill quicker. I wouldn't have lived."
Medical advancements are helping Americans live longer, but a fast-food culture and sedentary lifestyles are making us fatter than ever. People who are morbidly obese - at least 100 pounds overweight - are increasingly opting for some form of gastric bypass surgery as a last resort.
That includes seniors like Stratiff who are seeking to improve their health and quality of life for the years they have left.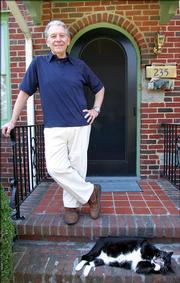 Recent research suggests seniors can benefit from weight-loss surgery as much as younger people and maybe more. One study, from Columbia University's Center for Obesity Surgery in New York, found that patients older than 60 got the same benefits from the surgery and had a comparable rate of postoperative complications as younger people.
Improving quality of life
A soon-to-be published study of 27 gastric-bypass patients 65 and older who had surgery at the University of South Florida and the University of Miami also showed the procedure produced good results and improved quality of life with about the same rate of mortality and complications as seniors who have heart-bypass and hip replacement surgery. That's a mortality rate of about 2 percent to 4 percent, double the death rate for younger gastric-bypass patients.
"We know it corrects the diabetes, it corrects the hypertension, it takes away the sleep apnea, it fixes the heartburn reflux, it makes their knees and joints last longer," said Dr. Michel Murr, a bariatricDD surgeon at the University of South Florida who has performed nearly 1,000 of the procedures. "All of this is medicine."
Doctors estimate that elderly people make up 1 percent to 2 percent of the total, but they expect that percentage to keep growing as Americans live longer and grow larger.
A study last year in the Journal of the American Geriatric Society estimated that obesity in those 60 and older will increase from 32 percent in 2000 to 37 percent in 2010. Men ages 65 to 74 and women 55 to 64 are the age groups with the highest prevalence of being overweight and obese.
Cheaper than treatments
Many private insurance companies cover bariatric surgery, finding it cheaper than long-term treatment of obesity-related health problems, such as diabetes and high blood pressure. Cost of the surgery starts at about $20,000.
Still, the inherent risks in what is indisputably a major operation keep some surgeons from performing the procedure on older people.
Weight-loss surgery has pitfalls for patients of any age. Recovery can be slow and uncomfortable, and a drastic and permanent change of diet is necessary. Stratiff, for instance, said he hasn't had a french fry since before his operation. He gets sick if he eats anything with too much sugar.
Still, he has no regrets.
"I never look back on the decision and second-guess it," he said. "It was the best thing for me to do. It was the only thing for me to do."
Copyright 2018 The Associated Press. All rights reserved. This material may not be published, broadcast, rewritten or redistributed. We strive to uphold our values for every story published.