GREENSBURG — When Richard Huckriede walked through the door of Hunter Drug Store in October 1952 to begin his job as a soda jerk, he didn't realize he would pass almost daily through that same door for the next 53 years.
"When I started, a 6-ounce cola was 5 cents!" Huckriede said with a chuckle as he reached for a stainless steel syrup pump to prepare a drink. "The prices now for anything just floor me."
Huckriede was 23 when he first appeared behind the counter of the drug store built in 1917, and he is 76 now. He has seen a lot of people come and go - and enjoyed meeting each and every one of them.
"I was pretty quiet in high school, and I surprised myself because I just love meeting and talking to people," said Huckriede, featured in the book "Soda Fountain Wisdom, Wise Words From the Countertop From All Over the Country," published in the spring of 2004.
Huckriede long ago memorized the favorite drinks of his regular customers and was sometimes surprised by the requests he received.
"There was a train engineer who always asked me to mix up a Bromo-Seltzer for him to take for his headaches," he recalled. "There were a lot of people who wanted it regularly."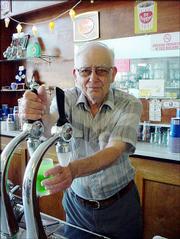 Huckriede said he tried not to make a habit of sipping the tempting fountain drinks he whipped up every day for customers, but he admitted being partial to cherry Cokes.
"It seems like everybody says they remember the cherry Cokes," he said. "I still make a number of 'em, and I do occasionally try one of them. And a lot of people like root beer floats with ice cream."
Customers used to call out "four hundred!" and Huckriede knew to whip up a milk drink with chocolate syrup in a tall glass. "But some people wanted vanilla or cherry," he said.
"I never knew where the name 'four hundred' came from, but years back, there were two drugstores open in Greensburg, and that's what the other one called it."
In the old days before television, computer games and soda machines at schools and filling stations, business was busier after school let out every afternoon, he said.
People came here to socialize in the '50s, and the store used to be open evenings and Sunday afternoons years back. The kids liked to sit in booths at the back of the store.
"We didn't have soda machines back then, and they cut us our business back somewhat," he said. "Now it seems the kids are kept busy in so many different activities, they don't have time to stop by."
Huckriede joined the Greensburg community in celebrating his 50 years at the drug store in the fall of 2003.
"Donations for the celebration came in from a lot of different places, and that's when the life-sized cardboard cutout of me was put into the Kiowa County Historical Museum," he said rather shyly.
"They fixed one of the museum's upstairs rooms with drug store items, and put the cutout of me up there. I have visited it at different times."
Huckriede has lived in Greensburg since he was 7 years old.
Copyright 2018 The Lawrence Journal-World. All rights reserved. This material may not be published, broadcast, rewritten or redistributed. We strive to uphold our values for every story published.