LARNED — If it weren't for the security guards and the barbed-wire fence, it might pass for a community-college campus.
The Sexual Predator Treatment Program at Larned State Hospital lies in the center of the state, tucked into the Kansas prairie a few miles outside Larned, accessible by a winding, rural road.
It's a quiet fact of life for people in this city of 5,000 that the hospital is home to about 130 people labeled as Kansas' most dangerous sex offenders.
"As long as you don't get no trouble :" said Wilbur Graver, 79, a retired hospital worker who was relaxing on a recent morning along the city's main drag. "You don't hear too much complaining. It probably ain't no different than anywhere else."
Few Kansans - in Larned or anywhere else - have seen fit to complain about the program since it began 11 years ago.
In theory, it's a place where the most dangerous sex offenders are sent after being released from prison. They're there to get mental health treatment until they're safe to return to society.
But in the past year, it's become clear the formula isn't that simple. More people are entering the program, costs are growing, but only one person has completed treatment.
And critics say there are still major, unanswered questions about whether the program is actually doing what it was created to do. To some, the program is essentially prison at three times the cost to taxpayers.
Photo Gallery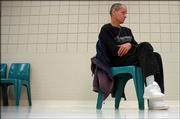 Larned State Hospital's Sexual Predator Treatment Program
"There's room for improvement there, and I don't think the state has been extremely honest about what goes on," said Tim Davis, a former clinical group leader at Larned, now a professor at Fort Hays State University.
In the spotlight
Two events this year have put the program in the public eye.
First, the state caused an uproar with its plan to release Leroy Hendricks to a geriatric group home near Lawrence in rural Leavenworth County. The plan is now on hold as an appeals court considers whether the county can use zoning laws to keep Hendricks out.
Then, a study by the state found that the program's population could triple in coming decades and that, in 11 years, only one person had successfully finished the program. If the trend continues, it will cost Kansans millions more dollars in years ahead.
The program cost $6.9 million this year and is expected to cost at least $7.8 million next year. According to state numbers, it cost about $150 per day last year to house someone at the sexual-predator program, compared with about $53 per day in a Kansas prison.
Pipeline problems
The study released this spring, by the state's Division of Legislative Post Audit, found that "many residents aren't progressing through the Program's phases on a timely basis."
Davis, the former staff member, said he believes the residents aren't entirely to blame for that. He said the program has been a "political disaster" for the state and that there's pressure to not let people out.
"I think they're disingenuous in how willing they are to let people go through the program," he said. "That was really one of the things that caused me to leave. I couldn't any longer look at the residents and say, 'Work hard, and you'll get out.'"
The program's clinical director, Austin DesLauriers, said he's never been directed to not let residents work through the program. But he said staff members occasionally get feedback "that there is some real resistance to the idea of graduates of our program re-entering the community."
Rep. Brenda Landwehr, a Wichita Republican, is chairwoman of the Kansas House committee that oversees funding for SRS, which operates the sexual-predator program. She said that after the state's study was released, lawmakers asked SRS for follow-up information.
"What we've asked for is 'Can we show that we're making progress with these individuals? Can we show that we have an effective program that is actually moving some individuals to the day they can be released?'" she said. "And those questions haven't been able to be answered yet."
Not punishment?
In 1994, Kansas was at the forefront of a nationwide movement to find ways to keep sex offenders locked up after their prison sentence had expired. The state's predator law was passed in response to the murder of Pittsburg State University student Stephanie Schmidt.
It allows sex offenders to be sent indefinitely to Larned if they're found to have a "mental abnormality" or "personality disorder" that made them likely to engage in repeated acts of sexual violence.
"I'll be honest: At the very first, when we made this law we didn't have any forethought of very many of these people being released at all," said Gene Schmidt, Stephanie Schmidt's father. "These are bad guys, and they're not going to want to change."
Kansas' first inmate was Hendricks, a repeat child molester whose challenge to the law went to the U.S. Supreme Court. Hendricks said the law violated constitutional protection against being punished twice for the same crime.
But in 1997, the court allowed for a nationwide expansion of the laws by finding Kansas' program legal because it wasn't a form of criminal punishment.
Eventually, 15 more states passed laws similar to the Kansas program. Nearly a decade after the ruling, Kansas isn't the only state with a ballooning predator population. In New Jersey, for example, 311 people had been admitted to that state's program as of December, and none had been released.
Paul Appelbaum, a former president of the American Psychiatric Assn., said he's not aware of any systematic efforts to see how well the programs nationwide are meeting their goals. But, like Davis, he questions what Kansas is getting for the money.
"These statutes - of which Kansas' is exemplary - really are a pretense for efforts to lock up sexual offenders for an indefinite period of time," said Appelbaum, a University of Massachusetts professor. "Although they come framed as therapeutic in intent, everything about them suggests that treating these people is not the real goal."
Hospital or prison?
On the way into a visitation area at the sexual-predator program, a security guard instructs visitors to put all sharp items - screwdrivers, pocket knives, nail files - into a locker so they can't be seized by an inmate.
David Heide, a 45-year-old roofer from Lee's Summit, Mo., was convicted in 1990 of breaking into a woman's apartment in Johnson County, holding her at knifepoint, fondling her and masturbating on top of her.
During the Journal-World's visit, he was dressed all in black with a cross dangling from his neck. He said he accepted Jesus into his life April 7, 2004, while awaiting his sexual-predator determination trial.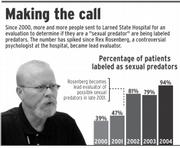 "I believe God put me here for a reason," Heide said.
On a typical day, Heide said, he has group therapy at 8 a.m., a "cognitive skills" class at 9, a leisure wood shop at 11, lunch at noon and recreation activities the rest of the day. He has one-on-one therapy for an hour every two weeks.
Much of the treatment, he said, "isn't helpful to me."
Heide said the emphasis at the program was more on incarceration than treatment. He said clinical workers gave "free reign" to security guards who applied rules inconsistently between different shifts - for example, occasionally locking doors without a good explanation.
"They keep saying, 'Well it's a new program,'" Heide said. "You're into your 11th year now. It's not really that new."
Davis questioned whether the treatment at Larned was individualized enough. For example, he said all incoming residents started at the same phase of the program, regardless how much sex-offender treatment they've had in prison.
He also questioned why the most reliable method of predicting whether someone will reoffend - a plethysmography machine, which measures sexual arousal - isn't used during the pre-commitment evaluation.
Davis said that when he worked at Larned, there were "constant battles" between security and clinical staff that made it difficult to provide treatment. For example, there were disagreements about what rules inmates should follow or how freely they should be allowed to move around.
"My personal perception was that it wasn't terribly therapeutic," he said.
But DesLauriers, clinical director at the program, said that overall the clinical and security staffs worked well together. He said inmates were responsible for most of the tension and that some residents "spend a good deal of their time and energy trying to split the staff groups."
More flagged
A higher percentage of people sent to Larned for sexual-predator evaluations are being found by the hospital's psychologists to be predators. Once that finding is made, the person can either accept the finding or get an independent evaluation, which leads to a trial if the two evaluators don't agree.
In 2000, 39 percent of people sent to Larned for an evaluation were identified as having sexual predator tendencies. In 2001, that number was 47 percent. But the following three years - from 2002 to 2004 - the numbers jumped to 81 percent, 79 percent and 94 percent, respectively.
Some people view the increase as largely due to psychologist Rex Rosenberg, who for the past four years has been the coordinator of Larned's sexual-predator evaluations.
Rosenberg's critics say he applies the law more broadly than other evaluators and question whether, with a master's degree, he has the proper training to conduct the evaluations.
A fundamentalist Christian, Rosenberg also has been criticized for a controversial Web site he posted in the mid-1990s, which accused "those who scream tolerance and multiculturalism and diversity" of censoring his personal research project.
That controversial research project was a survey designed to diagnose whether someone is influenced by demons.
From prison to mental health ward:
This is the process for deciding which people should be labeled "sexually violent predators."
¢ As sex offenders come close to finishing their prison sentences, the Kansas Department of Corrections evaluates each and considers which ones are at high risk of re-offending. It then sends a "notice of pending release" to Atty. Gen. Phill Kline's office.
¢ Kline's staff reviews the cases and decides which ones to pursue as possible sexual predators. Whitney Watson, a Kline spokesman, said a team of four attorneys is assigned to review sexual-predator cases. They consider factors, including the nature of the crime and the person's conduct in prison.
¢ On average, about 12 percent of the sex offenders released from prison each year are flagged by Kline's office, which then files a petition in the person's home county.
¢ Once the petition is filed, a judge considers whether there's probable cause to believe the person is a predator. If the judge finds probable cause - something that happens in about 95 percent of cases - the person then goes to Larned for an evaluation.
¢ If the evaluation determines the person is a predator, he or she can either agree to the findings or get an independent evaluation. If the two evaluators disagree, the case goes to trial. Evaluator Rex Rosenberg estimated that in the cases he's done, 80 percent of people have agreed to the findings of his evaluation. He said he's been involved with roughly 30 trials and, as far as he can recall, only one has ended with a finding that the person is not a sexual predator.
Copyright 2018 The Lawrence Journal-World. All rights reserved. This material may not be published, broadcast, rewritten or redistributed. We strive to uphold our values for every story published.