Lubbock, Texas — Texas Tech's backups had another chance to shine during a third straight early season runaway.
This time, coach Mike Leach said they didn't make the most of it.
Taurean Henderson ran for 141 yards and three touchdowns, and No. 19 Texas Tech beat Division I-AA Indiana State, 63-7, Saturday night. But the Red Raiders scored only once after taking a 56-0 lead on their first possession of the third quarter, leaving Leach worried about his team's effort.
"The score affects the clock, and it affects the plays you select, but it should not affect how hard you try," Leach said. "We had some cases where it did, and we'll be addressing that Sunday."
Texas Tech (3-0) was coming off an 80-21 victory over Sam Houston State, another I-AA school. After that game, quarterback Cody Hodges said he believed his offense could score 100 points. He later clarified his comments, saying the Red Raiders expect to score every time they have the ball, but weren't focusing on reaching triple digits.
Henderson and Hodges came out after the first half, and Indiana State (0-4) easily avoided the record book.
"I think that coach Leach showed a lot of class by getting his younger guys in the game," Indiana State coach Lou West said. "They may need those guys down the stretch this season, and it is good experience for them. I thought as a team they showed a lot of class, and that is something I will not forget."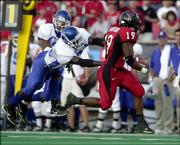 Leach said the Red Raiders' lopsided victories - they also beat Florida International, 56-3, in their opener - had enabled younger players to gain experience. But he was disappointed after Texas Tech had trouble scoring in the second half Saturday.
"The backup offense I thought was poor," Leach said. "The backup defense I thought was good for a period of time."
Henderson, the NCAA's active leader in touchdowns, scored on carries of 3, 44 and 6 yards to give Texas Tech a 21-0 lead. His first scoring run made him the Raiders' career leader in touchdowns and points.
Henderson has 55 touchdowns for 330 points - James Gray had 52 TDs and 312 points from 1986 to '89. Henderson has scored in 10 straight games.
"What we do as an offense is score points," he said. "My job as a running back in this offense is to score points. Getting the record is something that just came along with it."
Copyright 2018 The Associated Press. All rights reserved. This material may not be published, broadcast, rewritten or redistributed. We strive to uphold our values for every story published.