Baton Rouge, La. — Hurricane Rita smacked a key region for oil-refining with less force than feared on Saturday, although there were some early signs of damage.
Pump prices for gasoline and diesel fuel could rise if pipelines and oil refineries are slow to resume operations, and analysts said they were paying close attention to facilities in Lake Charles, La., and Beaumont and Port Arthur, Texas.
"There will be some modest disruption of supplies of gasoline and other products," said William Veno, an analyst at Cambridge Energy Research Associates. "But I don't think it's going to be as severe a situation as Hurricane Katrina."
Power outages were reported across wide swaths of Texas and Louisiana, leaving more than a million customers without electricity and one utility spokeswoman said it could be weeks before service is fully restored.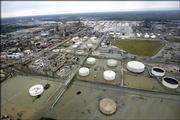 Valero Energy Corp. said it will take two weeks to a month to repair and restart its 255,000-barrel-per-day Port Arthur refinery, which sustained "significant damage to two cooling towers and a flare stack."
Outside the plant, two workers from Garner Environmental, a Houston-based cleanup firm, spread booms and oil absorbent pads late Saturday along a perimeter fence in knee-deep floodwaters stained with dark brown crude oil. They, along with a quartet of Valero workers in hip-waders assessing the damage, declined to comment, referring questions to Valero's San Antonio headquarters.
Motiva Enterprises Inc. and Citgo Petroleum Corp. also reported minor damage to plants in Port Arthur and Lake Charles, respectively. But on a positive note, Exxon Mobil Corp. said it completed a safety assessment and plans to restart its Baytown refinery outside Houston, a 557,000-barrel-per-day plant that is the nation's largest.
Photo Gallery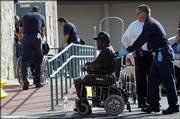 Hurricane Rita
Valero said the lights were on at its refineries in Houston and Texas City, Texas - plants that refine almost 300,000 barrels of oil per day. And BP PLC spokesman Scott Dean said that was encouraging since "they're right next door to us there." BP's Texas City refinery processes 437,000 barrels per day.
Based on computer modeling and initial reports, the Energy Department said it was cautiously optimistic about the nine refineries in the Houston area. "But we really need to look at the Port Arthur region and other areas directly impacted," spokesman Craig Stevens said. "It may still be two or three days before we get a sense of the actual picture."
Several oil and fuel pipelines that carry product from the Gulf Coast to markets in the East and Midwest were shuttered prior to Rita's arrival, but Explorer Pipeline Co. said Saturday that it could restart operations as early as Monday. Colonial Pipeline Co. also said it expects to resume pumping once fuel supplies and local power are available.
Copyright 2017 The Associated Press. All rights reserved. This material may not be published, broadcast, rewritten or redistributed. We strive to uphold our values for every story published.