City Commissioner David Schauner can envision the day when a $100 million bridge spans the Kansas River somewhere just east of Lawrence.
"It is apparent that our road network and our highway network between Lawrence and Kansas City is sort of strangling," Schauner said. "We need better connections."
But to Douglas County Commissioner Bob Johnson, Schauner's vision sounds more like a hallucination.
"I think the idea is absolute nonsense," Johnson said. "I think it is an idea or a scheme thought up by someone to divert attention from completing the South Lawrence Trafficway. There is no basis for belief that this project will ever happen."
Schauner admits the bridge would allow officials to "rethink" the trafficway issue. But he concedes the project isn't on any approved plans by the Kansas Department of Transportation or the Kansas Turnpike Authority.
The benefits of the bridge, though, are obvious, Schauner said. It would create a new connection between Kansas Highway 10 and Interstate 70. And it would provide a new route for motorists to travel between Topeka and southern Johnson County, which has been a major objective of the South Lawrence Trafficway.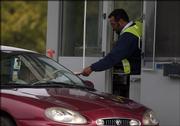 Intriguing idea
Johnson said the community should keep its efforts focused on the trafficway because construction is already two-thirds complete, and a federal permit has been issued to build the road through the Baker Wetlands. Local leaders now are waiting for KDOT officials to garner the necessary funding and fend off an all but certain lawsuit from environmentalists once work begins.
"I would say we're moving, albeit ever so slowly, towards the completion of the eastern leg of the trafficway," Johnson said. "I think it is just inevitable."
KDOT leaders are somewhere in the middle of this debate. Terry Heidner, director of planning and development for KDOT, said the idea was intriguing.
"It is certainly not on anybody's radar in terms of any construction dollars or even active planning," Heidner said. "But there are people here, like myself, who believe it needs to be thought about. So it is not like we're oblivious to the idea."
It's certain to be an expensive idea, though. Heidner said it was difficult to estimate a cost for the bridge but said it would easily be tens of millions of dollars and could approach $100 million.
Toll talk
Schauner agreed that the project would take a "boat-load" of money. Funding could be raised, he said, using tolls.
"In a day when everybody is looking to keep taxes down, it makes sense to me to look for alternative financing," Schauner said. "The one way that makes the most sense to me is to let the user pay."
Those users, he noted, would include out-of-state drivers.
"Kansans are going to have to pay for roads one way or the other," Schauner said. "Why not let people from outside the state pay part of the freight?"
But Johnson suggested that the vast majority of traffic on the bridge would be local. He said a more likely scenario would be for the state to seek greater amounts of local tax dollars to help design and build the project.
"That would mean millions of dollars of local money spent in the development phase of this project, and that really isn't going to happen," Johnson said.
Heidner said both men probably are right to a degree.
The state must find new ways to pay for roads as gasoline tax revenues become stagnant, he said, and tolls are among the options. But few locations have enough traffic to justify that method, he said.
Schauner isn't sure how far his idea will fly.
"I'm saying it is time to have the conversation on it," he said. "Actually, I think it is past time to have the conversation on it. It seems like it is a no-brainer to me."
- Staff writer Chad Lawhorn can be reached at 832-6362.
Copyright 2017 The Lawrence Journal-World. All rights reserved. This material may not be published, broadcast, rewritten or redistributed. We strive to uphold our values for every story published.