New York — Doyle Brunson can remember when being a professional poker player meant being an embarrassment.
The 72-year-old Texan recalls old friends crossing to the other side of the street when they saw him coming, and pulling out of the finals of a televised high-stakes tournament in 1972 because he didn't want to shame his family by advertising what he did for a living.
All of which made Brunson's situation on Friday night that much more interesting. With his trademark cowboy hat and his drawl as thick as Texas heat, he was the esteemed elder statesman at the "High Rollers Steak Dinner," one of the opening night events at this year's New Yorker Festival.
More than 100 people paid $200 a plate to sit in a dark, wood-paneled room at Gallagher's steakhouse and listen - and sometimes loudly react - to tales about the suddenly trendy world of poker from Brunson and fellow players Phil Hellmuth, Howard Lederer and David Williams.
"There's no life like the life I've lived," said Brunson, a 10-time World Series of Poker champion. "You're free like a cloud floating up in the sky."
The festival, in its sixth year, is three days of interviews, panel discussions, readings and musical performances. Writers such as Stephen King, Pulitzer winners Michael Chabon, Jhumpa Lahiri and Edward P. Jones, musicians Ric Ocasek and Ani DiFranco, dancer Mikhail Baryshnikov and many others are among those scheduled to appear before it wraps up today. The weekend event also features actor Steve Martin leading a banjo concert and a benefit for hurricane victims.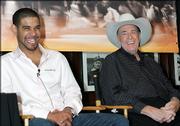 With the influx of players who have honed their game on the Internet and the proliferation of poker shows on television, professional poker has changed dramatically in the last few years and many of the world's top players have become minor celebrities. Tournament players are at record numbers, making winning a more difficult goal for longtime pros.
"It's like hitting the lottery," Brunson said. "We've got more tickets than everybody, but you've still got to hit."
The democratic feel of poker, a game that combines skill with luck, was evident during the panel discussion. Many comments made by the players, especially Hellmuth - with his reputation as the game's "brat" - were met either with applause or open derision from the crowd. The atmosphere might have been heightened by the fact that there was an open bar before the discussion began.
At one point when Hellmuth was explaining how he thought poker helped with social skills in teenagers and young adults, a man in the audience yelled out, "That's insulting."
"I'll debate you any time, baby," the nine-time World Series of Poker winner replied with a grin.
For Williams, who made more than $4 million playing poker while still in college and finished second at the 2004 World Series of Poker championship at the age of 23 after qualifying online, the emergence of poker into the national consciousness is both good and bad.
"It's so popular, which is great, but people don't see the bad side to poker," he said, talking about how he receives e-mails from kids who are ready to drop out of school and risk all the money they have to try for a win in a high-stakes tournament.
And all agreed that longevity is the one true way to measure a great champion. In that category, almost no one can match Brunson, who delivered the definitive line about the gambler's mentality.
"Money's just a tool to the real gambler," he said. "It doesn't have any value, except for what you can buy and you don't even miss it until you run out."
Copyright 2018 The Associated Press. All rights reserved. This material may not be published, broadcast, rewritten or redistributed. We strive to uphold our values for every story published.