"We're all about the snack love," Jeremy Selwyn says, and you wonder if the course of human history has ever produced such a sentence.
Americans all have their obsessions, and Selwyn's is potato chips. And it's not enough to keep his obsession to himself. He's on a mission to taste every chip out there, and he's gonna make sure you know about it.
That's where his contribution to the wider world comes in: Taquitos.net, a Web site devoted to the lofty pursuit of taste-testing greasy treats. They're mostly potato chips, though you won't see your "Monster Munch Pickled Onion" and "Sepasang Naga Squid Crackers" getting excluded, either.
"There are five main snacking food groups: potato, corn tortilla, popcorn, pretzels and cheese puffs," Selwyn says without a hint of irony. "We don't discriminate."
Taquitos.net is serious about snacks - so serious that it has reviewed more than 2,000 different types in the last five years. Apparently there's a hunger for this sort of information, too: The site gets about tens of thousands of hits per month.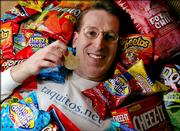 Think of Selwyn as a general, overseeing a global battlefield of hungry infantrymen, each seeking the next conquest.
"I have a small army of people scouting the world for some chips," says Selwyn, 35, a software developer in Boston.
You'd think the guy would be a lethargic blob of lardassitude, permanently lodged on the couch near a TV with grease stains on his T-shirts. You'd be wrong. He's a marathon runner and outdoorsman. He exercises daily. He eats veggies. So why would someone like that want to spend their free time writing about evil processed snacks known to clog arteries?
"It's not like I eat the whole bag all the time. I taste a few and get a good idea of the flavor. Of course, there are ones I can't resist and I end up downing them all."
Copyright 2017 The Associated Press. All rights reserved. This material may not be published, broadcast, rewritten or redistributed. We strive to uphold our values for every story published.