President Bush hasn't heeded their call for two years, but that didn't stop about 400 people from marching through downtown Lawrence on Saturday while calling for American forces to be brought home from Iraq.
"I think it's good to speak out," said Bob Marvin, one of the marchers. "I'm glad people turned out for this."
The marchers consisted of people of all ages, including a few children. Some families brought their dogs. They carried signs critical of the Bush administration's war effort, including ones that proclaimed "How Many Should Die For 0 WMD," and "Quagmire Accomplished."
While the protesters in Lawrence marched down Massachusetts Street to South Park for a peace rally, tens of thousands of like-minded people participated in a similar march in Washington, D.C., which went past the White House to the Washington Memorial. There they staged their own rally.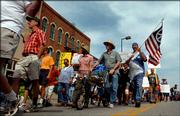 Lawrence resident Lauren Sullivan was among the marchers in Washington.
"There are a lot of different people here, and they are all against the war in Iraq," she said from her cell phone as she moved with the crowd past 15th and Pennsylvania streets. "Beyond expressing their frustrations with Bush, everybody is smiling and happy. There are a lot of religious groups here."
During the rally at the South Park gazebo, the seriousness of the anti-war issue was mixed with some humor. Speakers talked about the cost of the war in Iraq, referring not only to lives lost but also to the amount of money spent on the war. A long roll of cloth was unfurled to represent the military budget in comparison to much shorter rolls representing budgets for education and social and employment services.
"We're going to need more people," said speaker Christine Smith, as the military "budget" was unrolled.
A pair of Bush T-shirts poking fun at the president were displayed and put up for bid in a silent auction. One shirt bearing the words "Texas Homegrown Dope," showed Bush's face amid a marijuana plant. The second shirt was a cartoon of Bush pouring gasoline from a pump onto a burning globe while the lettering referred to him as "Global Warming Bush." Money from the auction was to help pay for fliers and publicity costs associated with putting on the march and rally, said organizers of the event from the Lawrence Coalition for Peace and Justice.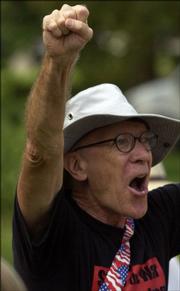 Along with the speeches, several musicians performed, including one song sang to the tune of "Glory, Glory Hallelujah," with "Halliburton" substituted for hallelujah.
David Scheuer was against the war when it began in March 2003. He said he wasn't surprised that the war was still going on.
"I just thought that it wouldn't be quite as simple as we were assured it was going to be," Scheuer said.
For many of the older people at the march and rally, the event was reminiscent of past protest marches during another controversial war. Ralph and Roma Earles said they participated in protests against the Vietnam War in Lawrence in the late 1960s. They said they didn't expect to be involved in another war protest more than 30 years later.
"It's very discouraging to know how much the government has departed from the mainstream of American values," Ralph Earles said.
The Earles' daughter, Chelsea, was taking part in the Washington rally, they said.
Allan Hanson, one of the coordinators for the Peace and Justice Coalition, said he was pleased with the rally. One person was designated to take a head count of the participants and determined that there were about 400 people. At least 20 people moved off the sidewalks and joined the marchers as they moved down Massachusetts, Hanson said.
Copyright 2018 The Lawrence Journal-World. All rights reserved. This material may not be published, broadcast, rewritten or redistributed. We strive to uphold our values for every story published.