Take nine talented performers, nearly 40 tuneful songs, and more than 100 colorful costumes. Keep them coming over the course of a 2-hour show, and you have "Jerry's Girls," now playing at Lawrence Community Theatre and directed by Terrance McKerrs. Based on Broadway numbers by Jerry Herman, this revue benefits from a brisk pace, with no delay between numbers, and from a well-chosen mix of fast and slow, comic and romantic songs.
Regular patrons of Lawrence Community Theatre will recognize the best female voices from previous LCT productions, plus one newcomer. Dancing doesn't take a back seat here, either, with regular choreographer Barbara Wasson in the cast (and featured in the lively "Tap Your Troubles Away").
With so many numbers to choose from, any selection of a few will leave out someone's favorites, but Friday's opening-night audience seemed especially delighted with some. There were comic variations on "Hello Dolly": Heather Ballinger and "Hello Deli"; Sarah Young and a chorus of cowgirls in "Hello Lyndon" (Johnson); and dueling divas Annette Cook, Franci Talamantez, and Young in the original song.
Photo Gallery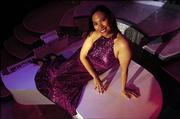 'Jerry's Girls'
The vaudeville spoof "Take It All Off" was followed by a heavily padded and fright-wigged Cook singing "Put It Back On." But a half-dozen songs later, she torched it up with a powerful and moving rendition of "If He Walked Into My Life," from "Mame."
Young's stage presence as well as her voice served well in numbers as varied as the poignant "It Only Takes a Moment" and the hilarious "Nelson." In the latter she appeared as a frilly Jeanette MacDonald, toting a cutout of Nelson Eddy, to which she sang candid and unflattering sentiments - and yes, she sang while gliding to and fro in a swing.
The whole show was energetic, with several notably high-octane performances. Catherine Skorupski belted out "Two A Day," dancing and mugging her way across and off the stage. Franci Talamantez delivered in-your-face renditions of "Wherever He Ain't" and "So Long Dearie." Sarah Shaffer vamped it up, lolling on the piano in what might be described as a mini-fringe, in "Look What Happened to Mabel."
If you go
What: "Jerry's Girls" When: 8 p.m. Sept. 30-Oct. 1 and Oct. 7-8; 7:30 p.m. Sept. 29 and Oct. 6; and 2:30 p.m. today, Oct. 2 and Oct. 9 Where: Lawrence Community Theatre, 1501 N.H. Tickets: $15-$21 Ticket info: 843-7469
Jack Riegle's set, with its columns, curving stairs, and tiered platforms, suited well the demands of a revue like this one, and provided a variety of acting space without requiring scene changes. Lighting by Andy Brown was dramatic and effective, constantly changing to reflect the moods of the numbers. Jane Pennington's kaleidoscope of costumes provided a feast of color and texture. Mary Baker served both as musical director and pianist, seated onstage throughout the evening at the Riegle-built white piano.
If you like musical revues, you'll enjoy "Jerry's Girls." You'll also wonder how the cast can manage all those costume changes. And as the ensemble launches into "The Best of Times" and segues into the finale, you'll wonder where the two hours went.
- Dean Bevan, professor emeritus of English at Baker University, can be reached at bevan@ku.edu.
Copyright 2018 The Lawrence Journal-World. All rights reserved. This material may not be published, broadcast, rewritten or redistributed. We strive to uphold our values for every story published.