GAZA CITY, Gaza Strip — Israel launched a "crushing" retaliation Saturday against Hamas in Gaza with deadly airstrikes, troops massed at the border and a planned ground incursion after militants fired 35 rockets at Israeli towns - their first major attack since the Gaza pullout.
Israeli aircraft struck two suspected weapons-storage facilities in southern Gaza and a school in a crowded Gaza City neighborhood late Saturday and early today, wounding 17 people, Palestinian officials said. Earlier, Israeli aircraft fired missiles at cars carrying militants in Gaza City, killing two Hamas militants.
The escalation threatened to derail a shaky seven-month-old truce and quashed hopes that Israel's ceding the coastal strip to the Palestinians would invigorate peacemaking. Israel's reprisals drew new Hamas threats of revenge, while Palestinian leader Mahmoud Abbas came under growing Israeli pressure to confront the militants.
Defense Minister Shaul Mofaz told security chiefs in a meeting that "the ground of Gaza should shake" and that he wanted to exact a high price from Palestinians everywhere, not just the militants, participants said.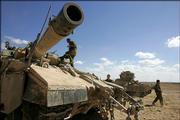 The crisis erupted just before a major challenge to Israeli Prime Minister Ariel Sharon's leadership in his hardline Likud Party, and could strengthen the hand of Sharon's main rival, Benjamin Netanyahu, who has warned the Gaza pullout endangers Israel. A Likud vote Monday could determine whether Sharon quits the party - a move that would likely bring early elections and prompt Sharon to form a new centrist party to capture mainstream voters.
On Saturday evening, Sharon convened his Security Cabinet, a group of senior ministers, to approve a series of military operations proposed by Mofaz, culminating with a ground incursion into Gaza.
Security officials said that "Operation First Rain" would include artillery fire, air strikes and other targeted attacks. The operation will grow in intensity, leading up to a ground operation unless the Palestinian security takes action to halt the rocket attacks or Hamas ends the attacks itself.
"It was decided to launch a prolonged and constant attack on Hamas," said Maj. Gen. Yisrael Ziv, the army's head of operations, hinting that Israel was preparing to resume targeted attacks against top Hamas leaders. Asked whether the leaders were in danger, he said: "Let them decide for themselves."
Palestinian Interior Ministry spokesman Tawfiq Abu Khoussa called the Israeli retaliation plan a "serious escalation that will lead to a new era of violence."
Copyright 2018 The Associated Press. All rights reserved. This material may not be published, broadcast, rewritten or redistributed. We strive to uphold our values for every story published.