Minneapolis — A familiar feeling washed over Glen Mason after his Minnesota Gophers gave up a touchdown to Purdue in overtime.
"I was dreading having to go look in their eyes in the locker room and have to give them one of those talks that I've had to give too many times," Mason said. "We've kind of been snake-bitten against Purdue."
Maybe this year is going to be different for the Gophers. Saturday certainly was.
Gary Russell scored three touchdowns, the last a three-yard run in the second overtime to lift Minnesota to a 42-35 victory that snapped a seven-game losing streak to the 11th-ranked Boilermakers.
Laurence Maroney put himself right in the thick of the Heisman Trophy race with a career-high 217 yards rushing on 46 carries for the Gophers (4-0, 1-0 Big Ten), who held on in another thrilling back-and-forth game between these rivals.
"Maybe this is payback for all those close games in the past few years," said quarterback Bryan Cupito, who threw for 271 yards, three touchdowns and three interceptions. "It feels great to win this game. We finally beat Purdue! I hope people start to realize that we're a legit team."
Purdue had a chance to tie in the second overtime, but Jerod Void was stuffed on third-and-one from the Minnesota 17, and Brandon Kirsch's fourth-down pass glanced off Charles Davis' hands. The Gophers charged the field in celebration of Mason's first victory over Purdue in seven tries as Minnesota coach.
Kory Sheets rushed for 101 yards for Purdue (2-1, 0-1), and his five-yard touchdown gave the Boilermakers a 35-28 lead in the first overtime.
But the Gophers came right back and tied it on Cupito's eight-yard touchdown pass to Logan Payne.
The Gophers took the ball to start the second overtime, and Cupito hit Payne on a 15-yard pass to set up Russell's game-winning score two plays later.
It was a bit of vindication for Mason and the Gophers, who have been criticized for scheduling weak opponents in nonconference play, then folding against superior Big Ten competition.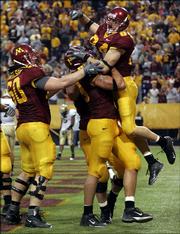 That especially has been the case against the Boilermakers, who beat Minnesota, 35-28, in overtime in 2001.
"I hate overtime," Mason said. "I love double overtime."
No. 1 Southern Cal 45, No. 24 Oregon 13
Eugene, Ore. - Matt Leinart threw for 315 yards and three touchdowns, and USC trailed early but took over in the second half. The Ducks (3-1, 0-1 Pac-10) jumped to an early 13-0 lead and clung to a 13-10 halftime advantage, but the Trojans (3-0) scored 35 unanswered points in the second half.
No. 4 Virginia Tech 51, No. 15 Georgia Tech 7
Blacksburg, Va. - Jeff King caught a touchdown pass from Marcus Vick and blocked a field goal that turned into a 78-yard scoring run by D.J. Parker. The Hokies (4-0, 3-0 Atlantic Coast Conference) shut down the vaunted passing game of the Yellow Jackets (3-1, 1-1), turned Georgia Tech's only sustained offensive drive into a special-teams touchdown and scored 17 points in a span of 44 seconds.
No. 5 Florida 49, Kentucky 28
Lexington, Ky. - Chris Leak threw four touchdown passes, all in the first half, and DeShawn Wynn scored four touchdowns as Florida got its offense rolling. After a blocked punt led to an early Kentucky touchdown, Florida (4-0, 2-0 Southeastern Conference) scored on seven straight possessions and led, 49-7, at halftime.
No. 7 Georgia 23, Mississippi State 10
Starkville, Miss. - D.J. Shockley passed for a career-high 312 yards in his first career road start, leading Georgia past Mississippi State. Georgia (2-0 Southeastern Conference) opened 4-0 for the third time in coach Mark Richt's five seasons.
No. 8 Ohio State 31, No. 21 Iowa 6
Columbus, Ohio - Troy Smith threw two touchdown passes to Anthony Gonzalez and ran for two scores, and Ohio State's defense shut down Iowa. Iowa (2-2, 0-1 Big Ten) finished with 18 rushes for minus-9 yards as A.J. Hawk and Mike Kudla each were credited with 11â2 sacks for 15 yards in losses. The Buckeyes (3-1, 1-0) harassed Iowa quarterback Drew Tate all day, sacking him five times for minus-43 yards.
Wisconsin 23, No. 14 Michigan 20
Madison, Wis. - John Stocco scored on a four-yard quarterback draw with 24 seconds left, snapping the Wolverines' 23-game winning streak in Big Ten openers. Wisconsin (4-0, 1-0) sealed the victory when Michigan's Chad Henne was flushed from the pocket and slipped on the turf, the ball popping loose as time expired, and the Badgers stormed the field with their first victory over the Wolverines (2-2, 0-1) since 1994.
No. 16 Notre Dame 36, Washington 17
Seattle - Charlie Weis led Notre Dame to the same kind of lopsided romp over Washington that Tyrone Willingham did a year ago when he was coaching the Fighting Irish. A year after Notre Dame won, 38-3, in South Bend, Ind., against Washington, the Irish took their show on the road to do virtually the same thing against their former coach on a brilliant fall afternoon before 71,473 fans in Husky Stadium.
No. 17 Michigan State 61, Illinois 14
Champaign, Ill. - Drew Stanton set a school record with five TD passes, and Michigan State scored on six of eight first-half possessions in its romp. Michigan State (4-0, 1-0 Big Ten) rolled up 705 yards. Illinois (2-2, 0-1) gave up 381 yards before halftime as Stanton did as he pleased during a 28-point second quarter. Stanton tied the school record, held by seven others, by halftime and broke it with a two-yard toss to Kellen Davis on the Spartans' first possession of the second half.
No. 20 Alabama 24, Arkansas 13
Tuscaloosa, Ala. - D.J. Hall caught two touchdown passes from Brodie Croyle, including a five-yarder in the final minutes, to lead Alabama. Juwan Simpson's interception at the Arkansas 40 set up the late scoring drive for the Crimson Tide (4-0, 2-0 SEC), which has opened with four straight victories for the first time since 1996. On third-and-goal, Hall slipped uncovered into the end zone yards from the nearest defender with 2:22 remaining.
No. 23 Virginia 38, Duke 7
Charlottesville, Va. - Marques Hagans threw four touchdown passes, and Virginia's defense forced four turnovers in a victory over Duke. Hagan's first three TD passes came on third-and-long, including a 46-yarder to tight end Tom Santi on third-and-24 that gave Virginia (3-0, 1-0 Atlantic Coast Conference) a 17-0 third quarter lead.
Late Friday
No. 13 California 41, New Mexico State 13
Las Cruces, N.M. - Justin Forsett ran for a career-high 235 yards, and Joe Ayoob rushed for three touchdowns and threw for another score to help Cal beat New Mexico State late Friday night.
Copyright 2018 The Associated Press. All rights reserved. This material may not be published, broadcast, rewritten or redistributed. We strive to uphold our values for every story published.