Manhattan — For the entire suspenseful week, Parrish Fisher was in the dark along with everyone else.
Now he and the rest of the Kansas State offense are in the record book with a 54-7 rout of North Texas that NCAA rushing leader Thomas Clayton only got to watch.
Clayton, being punished for a campus incident, never came off the bench as the Wildcats amassed a school-record 658 yards of total offense.
There was speculation all week whether Clayton or his backup Fisher would play. Clayton, who ran for 329 yards - the most in school history for the first two games of a season - was charged with aggravated battery after driving away from and allegedly grazing a campus parking-services employee.
"I didn't know what was going on," said Fisher, a red-shirt freshman who had 169 yards rushing and 59 receiving in his first college start. "I went out there. I was getting reps during the week. It feels good, just to have a good performance."
Before the game, Snyder said only that Clayton would suffer "consequences" for his action. Whether Clayton will play next week against Oklahoma also remains a mystery. The case is still pending.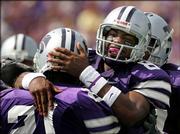 "It hasn't run its course yet," Snyder said. "It's probably inappropriate for me to say anything. We'll wait to see what happens. My stance has not changed."
With 169 yards on 21 carries, Fisher became the first Kansas State freshman to run for 100-plus yards in a game.
In the second quarter, Fisher had 109 yards and 46 yards receiving as the Wildcats (3-0) scored four TDs in taking a 31-0 halftime lead.
Allen Webb was 10-of-12 for 256 yards and two touchdowns.
Copyright 2018 The Associated Press. All rights reserved. This material may not be published, broadcast, rewritten or redistributed. We strive to uphold our values for every story published.