South Vienna, Ohio — In Ohio, a stately red brick inn once frequented by presidents hugs the nation's first federally funded interstate highway.
In Pennsylvania, the road passes a battlefield from the French and Indian War. In Indiana, travelers can stop at a cafe known for its pork tenderloin sandwiches.
Authorized by Thomas Jefferson in 1806, the National Road - also known as America's Main Street - stretches more than 700 miles through six states, from Maryland through Pennsylvania, West Virginia, Ohio and Indiana to Illinois.
The road served as a gateway to the West in the early decades of the 19th century, before the expansion of the railroads. It was heavily traveled by stagecoaches and wagons carrying pioneers, adventurers, traders and other travelers. Now, two centuries later, states are promoting the National Road's historic, cultural and recreational sites as a way to lure tourists from the interstates where speed is the big draw.
Ohio and Indiana have produced travel guides, and Maryland is planting 60 interpretive markers along the road to enlighten travelers about the historic sites. Illinois intends to build 21 information centers and is working on a pictorial history. West Virginia has a video promoting its sites, and Pennsylvania is one of several states with a Web site dedicated to the road.
Visual history book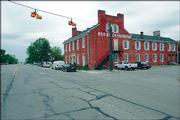 All the promotions offer maps, visitor information and facts about cities, businesses, bridges, farms, courthouses, rail stations, motels and wildlife areas along the highway, which is U.S. Highway 40 for much of the way.
Glenn Harper, who co-wrote Ohio's brochure, said the National Road is a visual history book for observant travelers.
"If people do their homework and prepare for this, they could have a very good experience," Harper said.
Ohio's guide points out such sites as astronaut John Glenn's boyhood home, the Camp Chase Confederate Cemetery and the first Wendy's restaurant. In Pennsylvania, there is the Fort Necessity National Battlefield. In Wheeling, there is West Virginia Independence Hall and Museum, and in Illinois there are the prehistoric Cahokia Indian mounds.
Driving the National Road is a mix of long stretches with little traffic and brief encounters with heavier traffic as the highway threads through urban areas. It is a ride in the country punctuated by short bursts of city viewing. And unlike the interstates, there are traffic lights.
Doug Bast operates the Boonsborough Museum of History out of his Victorian home next to the highway in Boonsboro, Md.
The house is crammed with Bast's private collection of religious art, pottery, the tusk of a wooly mammoth, a cane he says was carved by Geronimo and a collection of Civil War artifacts, including a Bible kissed by 10,000 Confederate prisoners who swore not to pick up arms again against the North.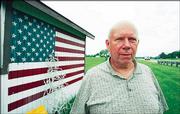 "I never get rid of anything so it just keeps piling up," Bast said.
Artists now operate out of frame rowhouses in West Alexander, Pa., that catered to travelers during the road's heyday in the 1870s. Buildings once used by blacksmiths and country doctors have been transformed into shops run by potters, jewelers and other artisans.
Inside the Red Brick Tavern in Lafayette, Ohio, a white-tablecloth restaurant draws visitors to the left, and a tavern beckons to the right. Prime rib, beef liver and homemade cinnamon rolls are on the menu at the inn, once a stagecoach stop that was visited by six presidents. And diners can admire the original woodwork, a grandfather clock, a Victrola phonograph and china that dates to the 1800s.
Glimpse at life on the road
The National Road can also take travelers to the homes of residents and shopkeepers.
Colorful, handmade, two-seater benches for sale in Jim Wren's front yard in South Vienna draw motorists to his workshop. Wren, 66, has spent his life next to the highway, where his father operated a filling station.
Down the road is a handsome, cream-colored brick home housing a business that bills itself as the largest lamp shop in the Midwest, carrying 5,000 lampshades.
Built in 1836, the house was a stagecoach stop and later a tourist camp, until Interstate 70 was built nearby in the late 1960s.
"Some nights it was bumper to bumper. You could just see them coming down the highway," said Denna Johnson, 62, who with her husband bought the house in 1963. "We knew we would fill up that night."
Window to the past
The National Road is also a window on the unusual and nostalgic - like a sign that says "Rocks for Sale" near Harmony, Ohio, and the Melody Drive-In, a 1950s-era theater that hosts church services on Sundays in Springfield.
On the outskirts of Indianapolis people can stop at the Plainfield Diner for the lightly breaded pork tenderloin sandwich - $3.50 apiece - and a piece of the pie of the day.
The classic diner with a stainless-steel shell, two counters and 16 stools went up in 1954. It is operated by Ray Piercy, 67, who got his start just out of grade school working at a drive-in restaurant. By 16, he was the day manager.
Piercy said being on the National Road is good for business.
"It's a high-traffic street," he said. "And the history's neat. I do appreciate it."
If You Go
GETTING THERE: The National Road, or U.S. 40, extends from the Inner Harbor in downtown Baltimore to East St. Louis in Illinois and spans Maryland, Pennsylvania, West Virginia, Ohio, Indiana and Illinois. To start in Baltimore, go north on Interstate 95 and take Exit 53-Inner Harbor. Veer right onto Conway Street and turn left on Light Street, which is the beginning of National Road going west. To start in Illinois, take U.S. 40 east from the Mississippi River in East St. Louis. PLACES TO SEE: Blue Ridge Mountains in western Maryland, Fort Necessity near Uniontown, Pa., Wheeling Suspension Bridge in Wheeling, W.Va., National Road/Zane Grey Museum near Zanesville, Ohio, Washington Street-Monument Circle Historic District in Indianapolis, the Cahokia Indian mounds in Collinsville, Ill. HOW TO DRIVE IT: Leisurely. Use guidebooks and pamphlets that point out historic sites, museums and other points of interest. Stop in for a meal at a historic tavern, hike and picnic in the parks, poke around the shops and businesses that flank the highway, and spend the night at roadside motels or bed and breakfasts. FOR MORE INFORMATION: For a multistate overview, go to www.byways.org/browse/byways/2278/ or call (800) 429-9297 and ask for information on the Historic National Road. For information by state: Maryland, www.byways.org/browse/byways/2273/ or (866) 639-3526. Pennsylvania, http://www.nationalroadpa.org/ or (724) 437-9877. West Virginia: www.historicwvnationalroad.org/ or (800) 828-3097. Ohio: www.byways.org/browse/byways/15641/ or (614) 298-2000. Indiana: www.indiananationalroad.org/ or (765) 478-3172. Illinois: /www.nationalroad.org/ or (217) 849-3188.
Copyright 2018 The Associated Press. All rights reserved. This material may not be published, broadcast, rewritten or redistributed. We strive to uphold our values for every story published.