It doesn't take a hurricane to make Jane Blocher realize how important it is to have enough money tucked away to cover six months' worth of living expenses.
But, from her post as executive director of the Douglas County chapter of the American Red Cross, Blocher has seen and heard of plenty of people who could use some personal income to fall back on, even after the outpouring of charitable support for hurricane victims.
Case in point: A Tulane University student displaced by Hurricane Katrina, looking for money to help pay for a U-Haul truck so that she could drive to New Orleans to retrieve her belongings from a flooded apartment.
"She was angry that the government wasn't going to pick up the tab for that," said Blocher, who has been coordinating assistance and meeting with evacuees for the past three weeks. "FEMA wasn't going to pick up the tab. Red Cross wasn't going to pick up the tab. She was angry about that, and I said, 'Well : you know, there are thousands and thousands of people that are going to incur out-of-pocket expenses for this disaster that they will never be able to recover.'"
Everyone can learn from the college student's hard-earned lesson, Blocher said: Maintaining savings is important.
"You have to have your own safety net," said Blocher, who has enough personal money tucked away to cover six months of expenses.
After years of preaching the value of sustained, dedicated savings practices, many financial professionals are hoping that the sprawling impact of Hurricane Katrina - and, as last week drew to a close, the pending arrival of Hurricane Rita - might help draw attention to the ongoing need to save.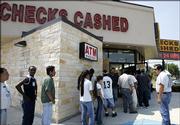 But hurricanes are not the only disasters that can leave people scrambling for money for days, weeks or months at a time. In Kansas, it may be flooding or a tornado. In Lawrence, it might be a job loss, illness or any other personal peril that could sap a family's ability to make ends meet in an already-difficult economic environment.
Accessible accounts
Financial planners generally suggest keeping enough money in savings to cover three to six months of expenses. The money should be accessible, such as in a savings or a money market account.
The Financial Planning Assn. also suggests keeping a low-balance or zero-balance credit card available for emergencies.
"You may not have access to cash from your bank right away, and a credit card with a healthy credit cushion could be invaluable to see you through," the association says. "You'll want to be careful not to overload your credit card. Use it only for necessities such as food, shelter, gasoline and medical supplies."
Other suggestions from the association for preparing for the worst:
¢ Prepare an evacuation box that is fireproof - lockable but yet light enough to quickly grab in an emergency. Keep all your important financial documents in this box, including cash or travelers checks, insurance policies, legal documents (such as wills, marriage and birth certificates, titles to your home and vehicles and powers of attorney), information on financial accounts (including account numbers and contact numbers for your investment and banking accounts) and a household inventory. The easiest method to inventory your home's possessions is to photograph or videotape them.
Finding money to save
Cutting a few corners - by following these suggestions from K-State Research & Extension - can save you $243 a month, helping come up with money that could be tucked away in a savings account for emergencies: ¢ Save 50 cents a day in loose change: $15 ¢ Cut soda consumption by one liter a week: $6 ¢ Substitute one coffee for one cappuccino at work: $40 ¢ Bring lunch to work: $60 ¢ Eat out two fewer times a month: $30 ¢ Buy grocery store brands: $10 ¢ Use fewer phone features and shop for best rates: $10 ¢ Borrow, rather than buy, one CD/DVD/book a month: $15 ¢ Maintain checking account minimum to avoid fees: $7 ¢ Pay credit card bill on time to avoid late fee: $25 ¢ Set limits on spending at sales (in stores, at garage sales and during auctions): $25
¢ Determine if you are properly insured. Do you need flood insurance? Buy replacement insurance for your home and its contents. If you're a renter, buy renter's insurance; a landlord's insurance will not cover damage to your personal possessions. Also make sure you have enough disability, life and perhaps long-term care insurance.
¢ Consider loan sources. Careful planning should reduce the need to borrow for an emergency. But if you must borrow, establish a line of credit in advance of financial problems - once you lose a job, for example, it's difficult to get credit. Consider using a home equity line of credit, which is tax deductible, or a personal line of credit (a business line of credit is tax deductible). Try to avoid borrowing from your retirement plan or life insurance cash values. Also avoid credit card and payday loans - they're very expensive.
¢ Keep people informed. Be prepared by notifying your chosen family members and financial professionals of important documents and their locations. Should something happen to you, it will save your loved ones from guesswork.
Adding to awareness
The recent hurricanes have heightened awareness of people's financial needs, Blocher said, and Douglas County residents already have responded with an outpouring of support for hurricane victims. County residents, businesses and organizations thus far have contributed nearly $250,000 to relief efforts through the county chapter of the Red Cross.
From her experience, Blocher knows that many county residents barely can afford to maintain their own standards of living, even in normal times.
But being committed to savings doesn't have to be overly painful. Blocher recalls employing some advice she'd heard about a decade ago - advice that since then has paid off many times over in savings.
"Never spend your change," she said. "Pay for everything in paper bills. If you go through the drive through and your Coke is $1.05, you pay for it with two $1 bills. And then, at the end of the day, you have 95 cents to put in the jar. You never spend your change. You pay for everything with paper.
"I think that's one of the easiest things to do: Never spend your change, and at the end of the day, you dump it in a big bowl. I did that one year and we ended up with like $800, $900.
"That is found money."
And it's money she could find useful in a time of emergency.
Copyright 2018 The Lawrence Journal-World. All rights reserved. This material may not be published, broadcast, rewritten or redistributed. We strive to uphold our values for every story published.