New York — Wall Street rallied to finish mostly higher Friday, capping off the week with two days of gains as Hurricane Rita lost strength and raised hopes that its impact on key Gulf Coast refineries wouldn't be as bad as initially feared.
With Rita headed for the Texas coastline - the heart of U.S. oil production - investors had braced for a repeat of the devastation caused by Hurricane Katrina last month. By Friday afternoon, however, Rita weakened to a Category 3 hurricane, sending oil prices down more than $2 and easing the mood on Wall Street.
But trading volume remained light while traders kept an eye on the storm, projected to strike the Texas-Louisiana border early this morning. And despite a drop in energy prices, the Dow Jones industrial average posted a small loss Friday.
"I think whenever you have something that's an event that could create news over the weekend, people get a little more cautious about putting money on the table," said Susan Malley, chief investment officer for Malley Associates Capital Management.
The market also mulled a profit warning from Alcoa Inc. and a pair of discouraging earnings reports from technology firms Oracle Corp. and Palm Inc., an early glimpse of the upcoming third-quarter earnings season.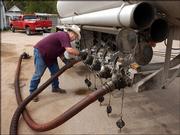 At the close of trading, the Dow dropped 2.46, or 0.02 percent, to 10,419.59, after sliding as much as 49.75 in early activity.
The broader stock indicators moved higher. The Standard & Poor's 500 index rose 0.67, or 0.06 percent, to 1,215.29, and the Nasdaq gained 6.06, or 0.29 percent, to 2,116.84.
Bonds finished lower, with the yield on the 10-year Treasury note rising to 4.25 percent from 4.18 percent Thursday. The U.S. dollar was mixed against other major currencies in European trading, while gold prices pulled back from 17-year highs reached earlier this week.
Friday's recovery rounded off an uneasy week on Wall Street as Rita swelled into a massive Category 5 hurricane Wednesday and threatened the remaining Gulf Coast oil facilities mostly untouched by Katrina in late August.
Stocks plunged earlier in the week, hammered by concerns about an economic slowdown as oil and gas prices edged near record levels and following the Federal Reserve's decision to raise the nation's interest rates an 11th consecutive time. The Dow posted three straight days of hefty losses, giving up more than 250 points through Wednesday.
For the week, the Dow lost 2.09 percent, the S&P; declined 1.83 percent and the Nasdaq ended 2.01 percent lower.
Crude oil also surged past $68 a barrel this week amid growing concerns about Rita's potential to further ravage Gulf Coast oil production. On Friday, a barrel of light crude sank $2.31 to settle at $64.91 on the New York Mercantile Exchange, where gasoline futures also dropped 5.4 cents to $2.086 a gallon.
The tech sector held its ground despite lackluster reports from Oracle and Palm late Thursday. Software maker Oracle said it squeezed out a slight rise in first-quarter profit. But despite a bigger profit, analysts were disappointed by the company's database software sales, which rose just 2 percent last quarter. Oracle dropped $1.07 to $12.45.
Palm, maker of the Treo smartphone, said higher costs and slumping sales of digital organizers drove a 7 percent decline in quarterly earnings. The company also pegged its second-quarter profit well below Wall Street targets, citing strong overseas competition. Palm lost $6.28, or 18 percent, to $28.69.
Meanwhile, Alcoa also warned Thursday that its third-quarter earnings would miss analysts' expectations, as soaring energy and raw-material costs exacerbate a revenue shortfall from sliding aluminum prices. Alcoa said its results would be affected by Rita, which forced it to close several facilities in the storm's path. Alcoa slumped $1.48 to $24.42.
Goodyear Tire & Rubber Co. on Friday said it would close an undisclosed number of plants as part of a broad restructuring geared at boosting its North American tire business. The company, hoping to save as much as $1 billion over the next three years, did not say how many jobs would be lost by the move. Goodyear climbed 50 cents to $15.50.
Copyright 2018 The Associated Press. All rights reserved. This material may not be published, broadcast, rewritten or redistributed. We strive to uphold our values for every story published.