Chicago — Jose Contreras came to the rescue of the faltering Chicago White Sox, pitching the best game of his major-league career when his team needed it most.
Contreras allowed six hits in his first career complete game Friday night, lifting the White Sox to a crucial 3-1 victory over the Minnesota Twins.
"Two months ago everybody wanted to kill this kid and get him out of town because he was pitching horrible," White Sox manager Ozzie Guillen said.
Chicago, which won for the fifth time in 15 games, maintained its narrow 11â2-game lead in the AL Central over second-place Cleveland, which beat Kansas City, 7-6, Friday night.
The Sox have been in first place every day of the season.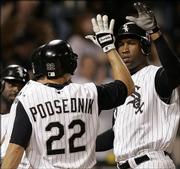 Yankees 5, Blue Jays 0
New York - Shawn Chacon kept up his mastery of Toronto with eight dominant innings, and Derek Jeter and Robinson Cano hit back-to-back homers leading off the first.
Red Sox 6, Orioles 3
Baltimore - Manny Ramirez hit his 40th home run and drove in three runs to back Bronson Arroyo.
Angels 7, Devil Rays 5
Anaheim, Calif. - Casey Kotchman hit a tiebreaking, two-run single.
Rangers 3, Athletics 1
Oakland, Calif. - Michael Young hit a tiebreaking home run in the sixth inning.
Mariners 2, Tigers 1
Detroit - Ryan Franklin won for the first time in eight starts.
Copyright 2018 The Associated Press. All rights reserved. This material may not be published, broadcast, rewritten or redistributed. We strive to uphold our values for every story published.