From a distance, it seems obvious.
Hurricanes form over warm water. Global warming has risen the Earth's average temperature. So global warming - and humanity's love affair with fossil fuels - caused hurricanes Katrina and Rita.
Not so fast.
"Go back and look at the severe storm events data, you'll see there are fewer going on now than there were in cooler times," said Lee Gerhard, a former director at the Kansas Geological Survey and an outspoken skeptic when it comes to assessing the effects of global warming.
"There's a real tendency, not only in this country but worldwide, to assume that people are responsible for everything," Gerhard said. "But Mother Nature is one very incredible and energetic entity, and the energy to interfere with one of the earth-dynamic processes is just really not in ability range of humans right now."
The often-proffered connection between global warming and the recent rash of hurricanes, he said, belongs in the "urban legends book."
But other scientists say that while the link between fossil fuels and global warming remains unproven, the Earth's atmosphere is changing. And with these changes come consequences.
Photo Gallery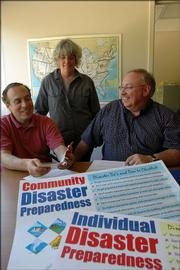 Hurricane Katrina
"We are really doing something extraordinary to the atmosphere," said David Braaten, a Kansas University meteorology professor who's studying changes in polar ice caps.
'New information'
The consequences, Braaten said, are likely to include an increase in Category 4 and 5 hurricanes because research has established a correlation between ocean temperatures and intensity - the warmer the water, the more intense the hurricane.
KU geography professor Johannes Feddema said a study published last week in Science magazine suggested that while the number of hurricanes has declined in the past 35 years, their intensity has increased.
"This is really new information," Feddema said.
The study, conducted by the National Center for Atmospheric Research in Boulder, Colo., and Georgia Institute of Technology's School of Atmospheric Sciences in Atlantic, did not make a connection between the world's ever-increasing reliance on fossil fuels and hurricanes.
But it did note the intensifying trend coincides with a rise in the Earth's temperatures.
"There is good evidence that the globe has been warming in the last two decades," Feddema said. "The question, still, is a little bit open as to what is causing that warming."
The Earth's climate, he said, went through several changes before global warming.
"The truth is, it's a very complicated system, so no matter how you look at it, there are going to be natural factors - natural changes from year to year, decade to decade," Feddema said.
"And then there's the 'human thing,'" he said. "When you restart pulling apart the human factors like emissions, greenhouse gases - that's where it gets complicated, and that's where the global debate is stuck."
Why warmer?
He added, "It's pretty clear the earth is getting warmer. There's still some debate about exactly why that's happening, although I think most scientists would agree there is some human influence."
But Lee Allison couched the debate differently. He is a senior geologist at the Kansas Geological Survey - which works closely with oil companies - now serving as Gov. Kathleen Sebelius' policy adviser on energy and science.
"It's a question of what the relative influence of the natural processes versus the human-induced processes," he said. "Critics of current national policies would argue that there's more influence from natural processes, so (restricting fossil-fuel consumption) would be like going out killing the rooster to prevent the sun from coming up in the morning.
"Or, why should we spend billions of dollars and torque the economy to stop greenhouse gasses, when, really, it may not do anything at all?"
Copyright 2018 The Lawrence Journal-World. All rights reserved. This material may not be published, broadcast, rewritten or redistributed. We strive to uphold our values for every story published.