West Point, N.Y. — Iowa State coach Dan McCarney was the first to admit his team was outplayed and outcoached in the first half against an Army team eager to beat a ranked opponent for the first time in 33 years.
But the 22nd-ranked Cyclones regrouped at halftime and ground out a 28-21 victory to ruin Army's first-ever Friday night game at Michie Stadium.
"We knew Army wanted to knock off a ranked team," McCarney said. "We made lots of mistakes. They did a better job of coaching and playing in the first half than we did. We had to turn that around in the second half, and we did."
Ryan Kock scored on two short runs in the fourth quarter as Iowa State came back to beat the Black Knights, who were playing just the fourth night game in the 82-year history of their home field. With the Corps of Cadets donning fatigues to cheer on their team, Army (0-3) was poised to beat a ranked opponent for the first time since it defeated then-No. 15 Air Force here in 1972.
But Iowa State (3-0) didn't panic after falling behind, 21-14, late in the third quarter. With Army holding Cyclones leading rusher Stevie Hicks to just 22 yards on nine carries, Kock, a 6-foot-1, 240-pound fullback, scored on runs of four and three yards in the fourth quarter to make it 28-21.
"They're very down," Army coach Bobby Ross said of his players. "But these kids are resilient."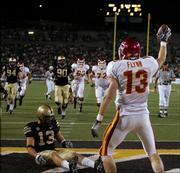 Ross praised the play of his defense, which held Iowa State to just 71 yards rushing, and that of running back Carlton Jones, who rushed 34 times for 122 yards and caught three passes for 39 yards.
"Boy, he played hard," Ross said. "That's a very, very complete ballgame for him."
Army had two chances to tie the game after Kock's second score. The first chance ended when the Black Knights couldn't convert a fourth-and-three at the Iowa State 22 with under a minute left. Army got the ball back with 10 seconds left, but quarterback Zac Dahman was sacked at midfield as time ran out.
Caleb Campbell's third-quarter interception of a tipped pass by Bret Meyer gave Army the ball at the Iowa State 40. Three carries by Jones moved it to the 17, and a pass from Dahman to Jared Ulekowski gave Army a first-and-goal at the one. Four plays later, Scott Wesley powered it in to give Army a 21-14 lead.
McCarney said Hicks wasn't "100 percent," but the coach declined to elaborate. While stifling the Iowa State running back, Army also intercepted Meyer three times.
"We just got pretty tired of offenses running up several hundred yards on us," Campbell said.
Copyright 2017 The Associated Press. All rights reserved. This material may not be published, broadcast, rewritten or redistributed. We strive to uphold our values for every story published.