Kansas City, Mo. — Travis Hafner homered in his sixth consecutive game, and the Cleveland Indians scored an unearned run in the ninth inning to defeat the Kansas City Royals, 7-6, Friday night, remaining 11â2 games behind the first-place Chicago White Sox in the AL Central.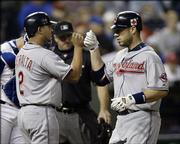 Cleveland recovered after wasting a 6-2 lead and won for the ninth time in 10 games, maintaining a 11â2-game lead over the Boston Red Sox in the AL wild-card race. The White Sox, who led the Indians by 15 games in the division Aug. 1, beat Minnesota, 3-1.
Hafner hit a two-run homer off Jose Lima in the third inning and is one short of tying the Cleveland record for consecutive games with home runs, set by Jim Thome from June 25-July 3, 2002. Hafner's last 10 hits have been for extra bases.
With the score 6-all in the ninth, Grady Sizemore reached on a one-out error by second baseman Andres Blanco. Coco Crisp hit a high bouncer that pitcher Mike MacDougal (4-6) threw wildly for another error, and Jhonny Peralta followed with a run-scoring single. With the bases loaded and two outs, Ronnie Belliard popped out.
Bob Howry (7-3) won despite allowing a two-out homer in the eighth to Mark Teahen that tied the score at 6. Bob Wickman pitched a 1-2-3 ninth for his league-leading 45th save in 50 chances.
The game was delayed for 14 minutes in the bottom of the eighth because of a power outage that caused the left-field lights to go dark.
Copyright 2018 The Associated Press. All rights reserved. This material may not be published, broadcast, rewritten or redistributed. We strive to uphold our values for every story published.