Ocean Grove, N.J. — It's early morning, and the sun seems to hover atop a gentle roll of waves. A dozen or so long-haired, pierced-navel, broad-shouldered dudes with killer tans prepare to introduce some surfing newbies to a level of higher consciousness.
"Surfing is a spiritual pursuit," Steve Brooks said to the initiates. "Being in the water, you feel something bigger."
He's talking God, not sharks. These are the Christian Surfers, Jersey Shore chapter, as you might guess from the surfboard with the hand-painted words "Saved by Grace Through Faith" and the 10-foot-high wooden cross planted in the sand.
"Not to sound like a tree-hugging hippie, we're just lifting them up," said Keith Gallo, considered the most hard-core surfer of the group. "We want them to see Christians that are gnarly and hard-core."
The Christian Surfers are the major attraction - after Christian singer Michael W. Smith, anyway - at the Summer Surf Festival, a Christian-sponsored weekend blowout in Ocean Grove, a 1-acre gated beach town founded more than 100 years ago as a summer destination for New York Methodists.
Under a white tent, wives, sisters and mothers dole out sunscreen and scripture. Pamphlets show an exuberant surfer suspended over a wave. There's much talk of hanging ten and the Gospel of John.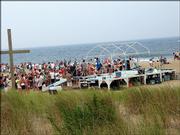 In the past decade, religious life on the surf circuit has exploded into a full-blown Christian evangelical movement. The Christian Surfers network originated in Australia and washed ashore in California about 20 years ago. The group has published the Surfer's Bible and codified its beliefs in a credo titled "Surfer's Challenge," using culturally appropriate language:
"Mankind blew it big time a long time ago when we tried to play 'God' and made our own choices of right and wrong. Bad move for us as we weren't designed to play God."
Spiritualism and surf
Christian Surfers USA, a Florida-based group, has added 10 chapters in the past year and says it has reached 58,000 people in the past three years. New Jersey has two surfer ministries on a mission to take the Gospel to the dudes and babes on the beach.
Surfer culture, once defined by its counterculture edge and reputation for debauchery, has mellowed somewhat. But surfers young and old attest to the spiritualism inherent in the confrontation with wave and wind.
Chris Mauro, editor of Surfer Magazine, estimates that the number of U.S. surfers has quadrupled in the past decade from the 2 million adherents counted in the last unofficial surfer census.
"There's all kinds of surfers with causes," said Mauro, who voices skepticism about Christian surfers' impact on the sport's overall culture. "They aren't permeating surf fashion. These kids are sponsored by the same companies that will run women in G-strings in their ads."
Back on the beach, Steve DeBeaus, 30, faces the rising sun and prepares to receive his lesson. He discovered the group on the Internet while searching for Christian communities to help develop his social circle.
"I'm looking for people to gel with about surfing and about Christ," said DeBeaus, whose T-shirt features the National Basketball Assn. logo - with an image of Jesus Christ in place of a ballplayer. "I want more of life to be with people who share my values."
Surf festivals aside, the Jersey Shore chapter of the Christian Surfers debuted last November and consists mostly of friends from Messiah College, a Christian liberal arts college in Pennsylvania.
Fellowship-oriented
On weekends a core group of a dozen offers surfing lessons, using that "hook" to invite newcomers to group prayers at sunset. About 40 surfers regularly attend weekly meetings at "the Garage," a space attached to Brooks' house in Brick, N.J., where they pray together and watch surfing videos.
Evangelizing surfers is all about a laid-back vibe. No preaching, no church talk, just a focus on building that "relationship" with him.
They say that to become a Christian Surfer, it's helpful to know how to catch a wave - and essential to accept Christ. The reward is the "fellowship" of men (and a few women) while navigating the treacherous waters of early adulthood.
Nate Lloyd, who spends his summers on his native Jersey Shore, plays the clown in the group. But behind the laid-back style, Lloyd describes a search for an identity, alienation that subsided only when he became more serious about his faith and found himself within the Christian fold.
"I've thought about how cool it would be to have a strong culture," Lloyd said. "I think about past Christians and look at them as my culture, rather than my Italian ancestors. I probably know more about them than my own family tree."
Stoked about God
The Christian Surfers began, as evangelizing missions often do, after a lot of searching. Keith Gallo, who has a tattooed mosaic of sea life wrapped around his arm and leg, passed the years after college chasing killer waves and good drugs along the coasts of Costa Rica and Indonesia. Finally, broke and unemployed, he got an offer from a Christian friend: Come live in my house on Maui, but you have to stop smoking ganja.
"It just showed that he really cared about me," said Gallo, 25, whose sun-weathered face makes him look older. "I was like, whoa, the Lord had been knocking on my door for a long time."
Gallo moved in with his parents in New Jersey, found a church and severed his ties to his old world. One night he got a call from a friend, Dan Cotton, who had been riding the waves in Panama. Cotton had met Christian surfers and felt a call to start a surf ministry.
Gallo thought it sounded cool: two surfer dudes totally stoked about the trinity of beach, surf and fellowship.
"Christ life is not easy, but ... we totally know it's God," Gallo said. "We know it's the Lord."
Copyright 2017 The Lawrence Journal-World. All rights reserved. This material may not be published, broadcast, rewritten or redistributed. We strive to uphold our values for every story published.