Area home builders are ready to show off 37 of their finest homes, condos and other residential developments in Lawrence, Baldwin and Eudora.
They just wish it didn't cost so much to bring such projects to market.
"For new construction, it's at the point where Lawrence is pricing itself into a slowdown," said Wayne Sharp, owner of Sharp Homes in Lawrence. "It's out of control."
Three of Sharp's homes are among the 37 properties included in the Fall Showcase of Homes, sponsored by the Lawrence Home Builders Assn. The event begins today at noon.
One of Sharp's entries in the Foxfire subdivision is listed for sale at $775,000, making it the most expensive home in the Showcase. There's another Sharp home on Burning Tree Drive offered for $695,000.
Coming in at the low end for a single-family home in Lawrence: Ziegler Construction's $189,900 entry at 2122 E. 17th St. in East Lawrence.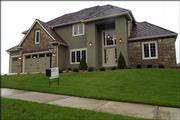 It's a neighborhood where Sharp got his start in the business 12 years ago, when he bought a home for $30,000 and set out to rehabilitate it for market.
"Now you can't even buy a (single) lot for that," Sharp said, lamenting rising land prices in town. "The first-time homebuyer in Lawrence is almost being driven out of town."
But single-family homes in Lawrence aren't the only residential options being featured during the Showcase. Elsewhere in town are condominium projects - including plans for Lake View Villas at the west end of Clinton Parkway, where prices are set to start at less than $150,000 - and a townhome at the southeastern edge of town for $169,900.
Single-family Showcase homes in Baldwin start at $164,900, and the Eudora entries range from $179,900 to $225,000.
Bobbie Flory, the association's executive director, said the event would offer people a chance to see a variety of housing types, styles and prices.
Homes tour
What: Open houses for 37 homes and other residential development projects in Lawrence, Baldwin and Eudora. Who: Members of the Lawrence Home Builders Assn., the event's sponsor. When: Noon to 5 p.m. today and Saturday, and Oct. 1 and 2. How: For a map of participating properties, see the advertisement in today's Journal-World, go online to www.lhba.net or pick up a booklet at area real estate offices.
She also cautioned potential buyers to be aware of upcoming price increases. Flory figures that homes built for the spring market will cost at least 15 percent more than those already on the market, once price increases for materials are factored in.
"The Showcase is really just a fun event, to come out and get some ideas for your own house," Flory said. "But if there are some people considering buying - and they're dancing around whether to buy a home - that's where a sense of urgency comes in. The prices for those (homes) that are built today and those that are being built for spring will be different."
Copyright 2018 The Lawrence Journal-World. All rights reserved. This material may not be published, broadcast, rewritten or redistributed. We strive to uphold our values for every story published.