Kansas University's enrollment, on the upswing since 2001, inched up again to a record 29,624 students this year, with minority students making up 11.9 percent of the student population, the highest percentage ever.
"We can still always achieve more," said Robert Page, director of KU's Office of Multicultural Affairs. "(But) things like the 11.9 percent figure only show that we're headed in the right direction."
Provost David Shulenburger said the university's goal wasn't to increase enrollment, but to keep it stable with gains made in the quality of students and the number of minority students.
He said KU could increase enrollment at the Edwards Campus in Overland Park, but other areas of the university would be hard pressed to handle growth.
"We haven't received funding to build new classroom buildings and residence halls," he said. "If we grew much, we would be exceeding our physical capacity."
The new figures were released Thursday in a 20th-day enrollment report from the Kansas Board of Regents. Enrollment at Regents institutions statewide increased by 547, with 88,817 students attending schools across the state.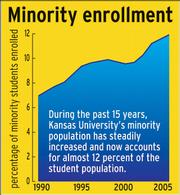 KU's growth came at KU Medical Center, where enrollment climbed by 80 students and compensated for a drop of 46 students on the Lawrence and Edwards campuses. Officials said declines at the Edwards campus followed a recent move to increase tuition costs for nonresident students.
KU has long sought to increase enrollment and retention of minority students.
Shulenburger said successful retention efforts were behind Thursday's figures.
For several years, KU has run HAWK Link, a program that helps freshmen navigate academic life. The program is not solely for minority students.
Page said the retention rate for HAWK Link participants was in the 84 percent to 88 percent range, compared with the 78 percent retention rate for minority students.
KU recently added a similar program, called Transitions, for sophomore students.
The university is on the prowl for top-performing students.
Lisa Kress, director of the Office of Admissions and Scholarships, said she kept track of students who received high scores on standardized tests and of National Merit Scholars.
Last year, of nine students in the state who received perfect scores on either the ACT or the SAT, one opted to attend KU. Some of the others went outside the state and to Ivy League schools, she said.
KU targets these top students with personal notes, phone calls and invitations to special scholar days on campus. There are scholarships for National Merit scholars. And KU has added the Perfect Achievement Scholarship for students who get perfect scores on either the ACT or the SAT. Its first recipient is Lenexa freshman Thornton Thompson, a microbiology major.
Thompson receives free tuition, housing, meals and a book stipend - a package officials estimate will be worth about $50,000 over his four-year experience.
Copyright 2018 The Lawrence Journal-World. All rights reserved. This material may not be published, broadcast, rewritten or redistributed. We strive to uphold our values for every story published.