Kansas City, Mo. — Denny Hocking had just 53 at-bats for Kansas City since being called up from the minors Aug. 6. He came through when the Royals needed him Wednesday.
Hocking's two-run pinch single with two out in the ninth inning gave Kansas City its first four-game sweep in six years with 4-3 victory over the Detroit Tigers.
"It's not a comfortable situation to be in," Hocking said. "You've got one chance to go up there and succeed. It is like what I try to tell all the guys that aren't playing that day that go down and are preparing in the (indoor batting) cage from the fifth inning on. I tell 'em, 'Someone in here is going to have a big impact on the game.' Today was my turn."
Tigers reliever Fernando Rodney (1-3) gave up a leadoff single to Matt Stairs in the ninth. Mark Teahen doubled with one out, and Angel Berroa was walked intentionally to load the bases with one out.
After John Buck struck out, Hocking - who at 35 is the second-oldest Royals player - batted for Andres Blanco and singled on a 2-2 pitch.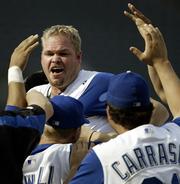 "When you're an older guy on a younger team, you can lead by example, or you can lead verbally," Hocking said. "I lead enough here verbally. I had a chance here to lead physically today, it worked out in my favor. I was happy to get the opportunity, and I was ready. Today I had a chance to pick a lot of guys up by doing something on the field. I think they appreciate that."
Kyle Snyder (1-3) pitched 32â3 scoreless innings for the win, giving up three hits.
"That at-bat doesn't happen without the effort Kyle Snyder threw out there today," Hocking said. "Mark Teahen : that's a routine ground ball for a single, and he busts his tail out of the box and gets two. My at-bat was created by those two guys early on."
Snyder picked up his first victory since June 4, 2003, against the Los Angeles Dodgers.
Copyright 2017 The Associated Press. All rights reserved. This material may not be published, broadcast, rewritten or redistributed. We strive to uphold our values for every story published.