I was getting ready for a Kansas University pre-game football party late Saturday morning, when I sat down at my laptop to quickly check my e-mail.
Then I heard an alert sound - one of my daughters was online.
I clicked on the green phone icon in the iChat instant messaging window. Another small window appeared with a sound monitor, with the words "Connecting ..." then "Connected."
"Hi dad," said the voice coming in over my laptop's tiny speakers.
"Hi Julie. Katy says everyone's getting together to tailgate this afternoon over at the Bull House at 11th and Maine. We'll have chips and burgers."
"Sounds great. I'll see you there. : Well, Lauren's here and I've got to go. ..."
"See you later."
I clicked the window closed and went back to browsing my e-mail.
In tech terms I had just taken advantage of VoIP, or Voice over Internet Protocol - using your computer like a phone.
Keeping in touch
Like a lot of parents whose kids head off to college, I've been trying to figure out how to stay in touch without running up massive cell phone bills.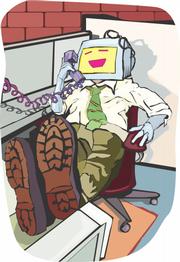 My daughter, Julie, and I discovered how easy it was to set up a couple of weeks ago.
Julie, a freshman at Kansas University, has been using the AOL Instant Messenger client since she was a seventh-grader.
She and I both started using iChat, an Apple program that works with the buddy list on your AIM account.
It's like instant messaging, only on steroids. Not only does it have text instant messaging, but also audio if you have a microphone and speakers.
And, if you have a Webcam or a digital video camera connected, you can do video conferencing.
I'm only one of many who are experimenting with the improved Internet audio and video technology being developed.
For example, Jay Pine, who's stepdaughter, Jamie Stanclift, is a freshman at the University of Akron, told me this week that he and his wife, Pam Pine, have been experimenting with video conferencing to keep in touch with Jamie.
Pine said they're using Windows Messenger and Logitech Webcams to set it up. He said the instant messaging was working. But they were still trying to get the Webcam to work successfully.
"Hopefully, I'll get this thing working in the next couple of days," he said.
Resisting change
I tried to get my daughter Bonnie, a freshman at the University of Iowa, to join in on the fun.
"Bonnie, why don't you try to get onto iChat for an audio chat?" I typed into the instant message screen on my computer Monday night.
A thought bubble appeared, showing she was typing.
"It's not worth it!" she wrote.
"Why not?" I typed.
"Just use the phone!" she typed.
I guess while some of us like to dive into new technology to try it out, others don't want the hassle.
Still, the popularity is growing.
"We don't have firm numbers, but we do have a sense that students are using Voice over IP as one means of communicating with their parents," said Allison Rose Lopez, public relations and marketing manager for KU Information Services. "And the advantage to students is that it helps you to avoid long distance charges on your traditional telephone service providers.
"It's also an advantage to parents who are likely paying those bills. : With today's era of increasingly text savvy students and parents, this is something we are seeing more of and certainly will continue to see more of."
Two types of VoIP
"VoIP has been around for the better part of 10 years," says Patrick Knorr, CEO of Sunflower Broadband. "So it isn't as new as people think."
But now there are two distinct, separate styles of VoIP that have emerged for the home user, he said.
One is the kind that the cable companies, such as Time Warner, Mediacom and Cablevision are offering, he said. It uses a managed circuit called a DOCSIS (Data Over Cable Service Interface Specification).
DOCSIS is a standard for transferring data over cable that provides a high quality of service, similar to what phone companies offer, and also allows 911 emergency service.
Knorr said Sunflower Broadband is currently investigating offering the Voice over DOCSIS model of VoIP as early as next year.
But the company won't make the change until it's sure it will be offering the same quality as it does now with its current telephony service.
Knorr said the second type of VoIP is being used by companies such as Google, Vonage and Skype that are Internet-based or Web-based.
Those companies allow you to talk through your computer to another person on another computer, or use your computer to dial up a cell phone or a landline phone. You pay a charge to the company for your connection to a cell phone or landline.
This second kind of VoIP doesn't have the quality of the DOCSIS type, but it does offer flexibility and a low cost, Knorr said.
"The big downside, again, is it's not a managed connection," Knorr said.
You can't have 911 emergency service equivalent to what the phone company or your cable provider can offer you, he said. And the sound quality isn't as good as the standards used by phone companies.
My iChat software is a form of VoIP, but it doesn't allow you to contact a cell phone or a landline for voice.
Gaining acceptance
Dan Hellebust, IT supervisor for Geeks on Wheels, said the new systems like Google Talk have streamlined the process of video conferencing: You plug in a Webcam and a microphone, launch the program and connect.
"It works reasonably well," Hellebust said. "It depends on the speed of the two people's connection and whether you're doing voice or doing video, too."
Hellebust said those who seem to be jumping on the VoIP bandwagon are high school and college students who grew up using instant messaging.
"And this is kind of the next step forward," Hellebust said.
Sunflower Broadband and Geeks on Wheels are owned by The World Company, which also owns the Journal-World.
Brian Best, CEO of Best Macs in Lawrence, said he thought the expanded use of audio and video in instant messaging might be coming into its own soon.
"The only people who have really monkeyed with it at this point are tech heads like myself and some of your larger businesses," Best said.
Best said he had found resistance himself - some people just don't like to be on camera, he said.
"I don't think people get quite how easy this thing is to implement," he said. "As the technology gets better and better, it will get cheaper and cheaper. And we'll start seeing more consumers taking advantage of it."
Video chatting
The iChat information I found online indicated that I had to buy Apple's iSight Webcams, which cost about $150 each, if I wanted to do a video chat.
But Tuesday I tried hooking up my digital video camera via firewire to my laptop.
It worked. The iChat program recognized the camera and my face showed up on a small screen.
When Julie got online, I surprised her by clicking on the video icon and inviting her to a video chat.
"This is cool. How are you doing this? Can you see me?" Julie's voice asked over my speakers.
I told her I couldn't see her unless we set up a camera on her end.
I took my laptop (which was connected wirelessly to the Internet) and the video camera outside on the patio. My dog came over, curious, and looked into the camera lens.
"Oh. : There's Bailey. Hi Bailey," Julie's voice said from my computer speakers.
Our dog jumped back, startled at hearing her name. Julie and I both laughed. Bailey walked off, apparently unimpressed.
Virtual tailgate
Later that night, Bonnie came online and I instant messaged her about my video chat with Julie and our dog.
"I miss Bailey," Bonnie typed.
"Set up iChat and you can talk to her," I typed.
Bonnie seemed a little more open to video conferencing.
"Well, I'll just bring my computer home next weekend," she typed, "and you can show me how to do it."
I started thinking about the possibilities. We could see her more often. She could see the dog.
Also, being at Iowa, Bonnie hasn't been able to get together with our family and friends on football game days.
Hmm. That might be something fun to do at the next KU home game: a virtual tailgate video conference.
Copyright 2018 The Lawrence Journal-World. All rights reserved. This material may not be published, broadcast, rewritten or redistributed. We strive to uphold our values for every story published.