Get out of the dark and open your eyes to the wondrous, sexy, mysterious and intriguing world of black in the garden.
Black flowers create depth and make a focal area come to life. They lure, tantalize and bewitch a garden with ambiance. Whether a gardener uses black as the star of the show or in a supporting role, the deep, dramatic hue makes hot colors seem cooler and cool colors seem hotter.
Black juxtaposed next to silver, white, chartreuse, pink - any color, really - accentuates that color more.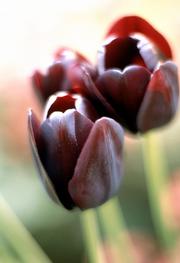 There are no true black plants. As any landscape artist will tell you, black does not exist in nature. What I'm referring to as black plants generally range from deep purple to dark burgundy, but the eye registers them as black.
Scott Wisdom, sales associate at Sunrise Garden Center, says purple foliage lends a burst of color to the autumn landscape.
"Looking for foliage with color can complete the garden," he says. "The first thing I look for is texture and foliage. The blooms are just icing on the cake."
Just as there are trends in architecture, fashion and foods, there are trends in gardening. Growers are acutely aware of the demands of an experimental public whose appetite for the unique steers the movement of black into the garden more and more each season. Growers are now working on a black sweet pea and a darker than dark coleus. They recently introduced a "Midnight Mystique" hyacinth, and who knows what other delights will be introduced in these deep, sumptuous shades in years to come.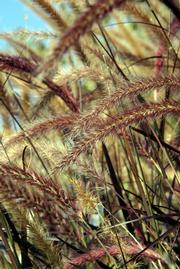 The key to success with dark plants is in the placement.
"In design, what makes a color stand out is through the contrast," says Amy Albright, owner of Vinland Valley Nursery. "If you selectively use the color and texture contrasts, you don't even necessarily need a flower or bloom of any kind. It is not about the individual plants but rather how the plants play off one another."
Wisdom agrees.
"If you haven't tried these dark tones, you can have so much fun with the color pairings of light and dark. The beauty is in the juxtaposition of the dark leaves next to a lighter plant that makes them interesting. For instance, using creeping Jenny with its chartreuse colors as a ground cover and then a dark coral bells on top will make both plants pop out of the landscape."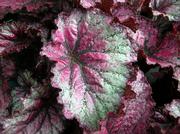 Don't be afraid to dive into the deep, dark end of the gardening color spectrum.
"There are no rules to black plant placement in the garden," Wisdom says. "If you have a focal point where you are attempting to lead the eye, black will achieve that.
"It is so subtle in some instances that a gardener may forget all about it, but it is working at adding depth and mystery to the surrounding flora."
Black bonanza
Interested in learning more about black plants? Try reading Karen Platt's "Black Magic and Purple Passion" (self-published, $31.16). In the meantime, here are some dark varieties of trees, shrubs, perennials, bulbs and annuals that you might want to try in your landscape:
Bulbs and annuals ¢ Sweet potato vine ¢ "Arabian Nights" hollyhock (biannual) ¢ "Queen of Night" and "Black Parrot" tulips ¢ Purple fountain grass ¢ Coleus ¢ "Flamingo Purple" celosia ¢ "Midnight Mystique" hyacinth ¢ Cannas with deep burgundy leaves ¢ "Black Arrow" delphinium ¢ Black elephant ear ¢ "Black Devil" pansy
Perennials ¢ "Superstition" and "Before the Storm" iris ¢ "Palace Purple," "Obsidian" and "Regina" coral bells ¢ "Husker Red" and "Whipple's" beardtongue ¢ Shenandoah switchgrass ¢ "Black Baccara" tea rose ¢ Black and dark red hellebore ¢ Black bamboo ¢ Black mondo grass, related to liriope ¢ "Lynda Windsor," "Black Jack" and "Purple Emperor" sedums ¢ "Plum Crazy" hibiscus ¢ "Red Dragon" persicaria ¢ "Black Barlow" columbine
Trees and shrubs ¢ Japanese maple ¢ " Diablo" ninebark ¢ "Crimson King" maple ¢ "English," "Black Beauty" and "Black Lace" elderberry ¢ "Midnight Wine" and "Wine & Roses" weigela ¢ Purple smoke bush
Copyright 2018 The Lawrence Journal-World. All rights reserved. This material may not be published, broadcast, rewritten or redistributed. We strive to uphold our values for every story published.