A home with a nautical theme that was a minor city landmark even before it was the scene of a high-profile murder could be coming up for sale soon.
A bank recently filed notice that it plans to foreclose on the home at 2105 Carolina St., where carpenter Martin K. Miller strangled his wife, Mary, during the night of July 28, 2004. But before the foreclosure can happen, it's likely the home will be sold on the market by a bank acting on behalf of the couple's two children.
"One way or another, we're going to get this foreclosure action taken care of so that the property can be sold," said Evan Ice, attorney for Douglas County Bank, which has been appointed to oversee Mary Miller's estate and the finances of children Melodie and Matthew Miller. "We think there's some equity there that needs to benefit the children."
The Millers had a mortgage balance of $134,186 owed to Fidelity Bank, which filed notice earlier this month that it plans to foreclose. The home and property, which includes an attached carpenter's shop and a wooden lighthouse and boat in the front yard, is appraised at $192,400.
Under state law, people can't benefit from the estate of a person they've been convicted of murdering. The Miller children are Mary Miller's sole heirs and are expected to receive all proceeds from her estate, which includes the home, a retirement account and a life-insurance policy.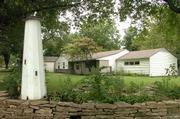 In a settlement proposed Tuesday in Douglas County District Court, Martin Miller agreed to give up all his interest in his wife's estate, with the exception of some personal items, Ice said. But the agreement is contingent upon Judge Jack Murphy's approval, and it wasn't clear Tuesday whether the judge had approved it.
Ice said that if the agreement went through, it would simplify things for the Miller children, who are now living with family friends appointed by the court as their guardians. For example, the bank won't have to wait until Miller exhausts the appeal of his conviction before collecting the life-insurance proceeds.
"This is something that will hopefully allow the kids to move forward," Ice said.
Ice said he couldn't comment on the value of the life-insurance policy or retirement account.
Martin Miller, a former Christian-school board president, is serving a sentence of 25 years to life in the state prison in El Dorado. Prosecutors argued he murdered his wife so he'd be free to pursue sexual relationships with other women.
Copyright 2018 The Lawrence Journal-World. All rights reserved. This material may not be published, broadcast, rewritten or redistributed. We strive to uphold our values for every story published.