A former employee of the Kickapoo Tribal Council has accused several council members of fraud and mismanagement.
The accusations coincide with an Oct. 1 election, the recent suspension of a council member and efforts to open a megacasino-resort near the Kansas Speedway in western Wyandotte County.
"We are tired of the corruption. It just keeps growing and growing," said Josephine Cisneros, a candidate for the tribal council and a former accountant at the tribal office near Horton. "We want to take our tribe back."
Cisneros said she was one of three "whistle-blowers" who staged a protest last week outside the tribal offices near Horton. She declined to identify her colleagues.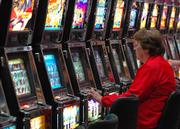 The group, she said, is upset that tribal leaders have spent millions of dollars developing plans for a new casino.
"Our money should be spent on social services, on our elderly," Cisneros said. "It's not reaching the people."
Council member Emily Conklin, an outspoken proponent for building a casino in Wyandotte County, was suspended last week, pending an investigation into allegations of credit card misuse.
Attempts to reach Conklin for comment Tuesday were unsuccessful.
"We punched a hole in their power," Cisneros said, referring to Conklin's suspension.
Dan Watkins, a Lawrence attorney who represents the tribe, said Cisneros' criticism of the tribal council was baseless.
"There are a lot of unfounded charges flying around," Watkins said. "That's not an unusual occurrence in highly contested tribal elections."
He added: "It does more harm than good for tribal leaders to deny unfounded allegations."
Casino plans
In a May interview with the Journal-World, Kickapoo Tribal Chairman Steve Cadue defended the tribe's joining the Sac and Fox Nation to propose building an 80,000-square-foot, $175 million resort and casino in Wyandotte County.
The proposal called for closing the separate Kickapoo- and Sac and Fox-run casinos after the new casino opened.
Without such a plan, he warned, the tribes were vulnerable to persistent calls to allow state-run casinos in or near Dodge City, Junction City, Kansas City, Pittsburg and Wichita.
Opening state-run casinos, he said, would lead to sharp reductions in tribal revenues. He declined to say how much the tribe nets from its Golden Eagle casino, but those who study the industry said it's between $8 million and $12 million annually.
Most of the money, Cadue said, has been distributed to tribal members or spent on services and on-reservation improvements.
Earlier this year, the tribes agreed to pay $4 million for an 80-acre site northwest of the Kansas Speedway.
Cadue did not respond to messages left on his office answering machine Tuesday.
Though lawmakers convened several hearings, efforts to expand in-state or on-reservation gaming stalled during this year's legislative session.
Because Cadue is not up for re-election, Cisneros said she and her supporters hope to unseat his supporters, incumbents Bobbi Darnell and Rozella Ramirez.
"We've got people in office who were elected based on popularity - not on their qualifications," she said.
Copyright 2018 The Lawrence Journal-World. All rights reserved. This material may not be published, broadcast, rewritten or redistributed. We strive to uphold our values for every story published.