New Orleans — The Army Corps of Engineers raced to patch New Orleans' fractured levee system Tuesday and residents were forced to decide yet again whether to stay or go as a new, rapidly strengthening hurricane threatened to flood the city anew.
"First it was come back, then it was go," said Karen Torre, who returned to her uptown home Tuesday to haul away debris and clean rotted food from her refrigerator before leaving again. "We're just trying to do what they tell us and get a few things done in between."
The new threat was Hurricane Rita, which strengthened into a 105-mph Category 2 storm as it barreled past the Florida Keys into the Gulf of Mexico.
Forecasters said the storm could strengthen to a 131-mph-plus Category 4 and hit Texas by the end of the week. But a slight turn to the right was possible, and engineers warned that even a glancing blow to New Orleans and as little as 3 inches of rain could swamp the city's levees.
Photo Gallery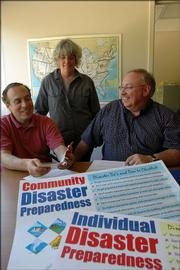 Hurricane Katrina
"The protection is very tenuous at best," said Dave Wurtzel, the Army Corps official responsible for repairing the 17th Street Canal levee, whose huge breach during Katrina caused the worst of the floods that wrecked the city.
Officials fear another hit
Mayor Ray Nagin and Louisiana Gov. Kathleen Blanco strongly urged people along the Louisiana coast to be prepared to get out. The federal government's top official in the city, Coast Guard Vice Adm. Thad Allen, said the preparations in and around New Orleans included 500 buses for evacuation, and enough water and military meals for 500,000 people.
"We are praying that the hurricane dissipates or that it weakens," said Blanco, who declared a state of emergency. "This state can barely stand what happened to it."
In anticipation of another hurricane, the Corps drove a massive metal barrier across the 17th Street Canal bed to prevent a storm surge from Lake Pontchartrain from swamping New Orleans again. Although engineers have left a large opening in the wall to allow floodwater to continue to be pumped back into the lake, it will have to be closed quickly if Rita or another storm threatens.
Government engineers and private contractors also worked around the clock across New Orleans to repair the damage to the system of pumps, concrete floodwalls, earthen berms and canals that protect the below-sea-level city.
In addition, the corps had 800 giant sandbags weighing 6,000 to 15,000 pounds on hand just in case, and ordered 2,500 more to shore up low spots and plug any new breaches. It was also putting pumps and other materials where they might be needed.
"If New Orleans was directly affected by a Category 1, I would be concerned - I would pull my people out," said David Pezza, the top geotechnical engineer for the Army Corps. "These levees are greatly compromised."
Rita's threat to the levees already forced the mayor to suspend the phased reopening of the city and order a new round of evacuations. In some areas where bars, restaurants and shops were opening their doors for the first time since Hurricane Katrina, people were boarding up windows and getting ready to leave town again.
More evacuations
The call for another evacuation of New Orleans came after repeated warnings from top federal officials, including President Bush, that the city was not yet safe because of the lack of full electricity, drinkable water and 911 emergency service.
Nagin ordered residents who had slipped back into still-closed parts of the city to leave immediately. He also urged everyone already settled back into Algiers, the only neighborhood now open to returning residents, to be ready to evacuate as early as today.
Nagin said two busloads of evacuees left from a staging area at the convention center Tuesday afternoon. He estimated that 400 to 500 residents were left in the city. The city decided to allow people to continue cleanup until dusk Tuesday and will start to re-enforce the evacuation order today, he said. He did not give specifics on how the order will be enforced.
To people who refuse to leave, Nagin had this message: "We're all adults. We really don't want to take people out by gunpoint. We hope they see the threat ... and obey the law."
Copyright 2018 The Associated Press. All rights reserved. This material may not be published, broadcast, rewritten or redistributed. We strive to uphold our values for every story published.