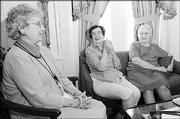 "Thou shalt not murder the King's English."
Three members of a 104-year-old Lawrence women's study club laughed hysterically when they heard the club's fifth commandment, taken from a program in 1924.
"People were more precise in those days. They adhered strictly to rules and regulations," said Dorothy Fritzel, a member of the West Side Study Club since 1989.
Fritzel, Margaret Freeman and Elsie Hemphill said the West Side Study Club had changed considerably since its early days.
Today, nine women meet the second Tuesday of each month from September to May. The meetings are more social with a meal involved.
The club first met Jan. 7, 1901. Eight Lawrence women met on the west side of Massachusetts to discuss literary subjects and scholarly issues, according to historical documents on file at Kansas University's Spencer Research Library.
"The reason they organized was they were just tired of staying home being housewives, and they wanted a little culture," Freeman said.
Now, the members practice a developed theme of friendship as stated in the group's constitution.
Poems written by former member Maude Jackson appear in the club program, along with tributes to more recent members who also have passed on, Fritzel said.
"I felt that it was a prestigious club, and it was an honor to be invited," Fritzel said. "I still think it's a prestigious club."
While new members must be invited to join and approved, Hemphill said the current members wanted to keep it going themselves. If others express interest and join, then the club will survive, she said.
"When you joined, you thought it was quite an honor to be in that group," Hemphill said.
For years, the club met in The Castle Tea Room, 1307 Mass., until restaurant owner and study club member Libuse "Libby" Kriz-Fiorito died in 2004. In September, the group will meet for the first time at Perkins Restaurant, said Fritzel, the outgoing president.
Copyright 2018 The Lawrence Journal-World. All rights reserved. This material may not be published, broadcast, rewritten or redistributed. We strive to uphold our values for every story published.