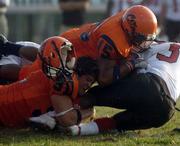 Baldwin — The William Jewell College football team scored 27 unanswered points, including 21 in the first quarter alone, to cruise to a 27-6 victory Saturday over Baker University at Liston Stadium.
William Jewell (2-1) opened the scoring on the opening drive of the game courtesy of a 35-yard touchdown pass from Daniel Forrest to Lorenzo Selectman. Forrest would throw for two more scores in the opening frame, hooking up with Brett Jones on a 22-yard scoring strike and Leon Wiggins for a 14-yard touchdown.
The Cardinals tacked on a pair of field goals before Baker (0-3) ended the shutout with a five-yard touchdown pass from Brian Sheppard to Brandon Crosby with 4:09 remaining in the contest.
Forrest was 15-for-30 for 197 yards and no interceptions, while Wiggins rushed for 133 yards on 28 carries.
Sheppard was 9-for-20 for 133 yards and two interceptions. Kendall Bradley also saw action at quarterback for the Wildcats, completing 10 of 23 passes for 41 yards with one interception.
Baker returns to action at 6 p.m. Saturday at Evangel.
Copyright 2018 The Lawrence Journal-World. All rights reserved. This material may not be published, broadcast, rewritten or redistributed. We strive to uphold our values for every story published.