The inaugural LAGA Women's City Open was just as competitive as the Senior City Open, as the champion was decided by a scorecard playoff.
Carol Rau clipped Suzanne Hutchens on the second handicap hole to claim victory after shooting a 78 on Saturday at Eagle Bend. Rau also won the longest putt competition on hole 15, giving her a birdie and the championship.
"I made some birdie putts, and I kept (the ball) in play better on the back," said Rau, who was trailing Hutchens by three strokes after the first nine holes.
Despite making three straight birdies on the first nine holes to shoot a 38, Hutchens only could muster a 40 on the last nine holes to allow Rau to tie it up.
"We really just kind of flip-flopped because I played good on the front nine, and I was making birdies," Hutchens said, "and then Carol went on the birdie streak on the back."
Another special moment in the Women's Open came from Mary Kolich. Kolich had her son, Zak, serving as her caddie, the only caddie used in the tournament. Zak came up with idea of caddying for his mother from when he played in the Men's Open in July and his brother caddied for him.
"They work harder than they look on TV," Zak said. "It's more fun to golf with somebody you know and can talk to, a little less pressure having to deal with strangers."
Photo Gallery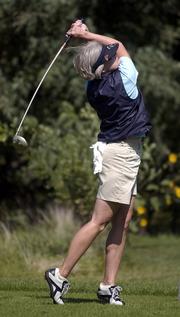 LAGA Women's City Open and Senior City Open
Craig Hershiser, one of the tournament's co-directors, said he was pleased with the turnout for the first year of the City Women's Open.
"We thought it was time to offer a ladies tournament, and we were very, very pleased with the number of women who came to play today," Hershiser said. "We hope this was a good enough experience for the women who played today, that they'll talk it up amongst their friends and next year we hope the tournament field will be larger."
The men's side also had a memorable moment in the first round of play. Dave Johnson shot a hole-in-one into a stiff wind on the 108-yard, par-3 third. It was Johnson's first hole-in-one.
"I waited until I got up there to make sure; I didn't want to believe it until I saw it in the hole," said Johnson, who shot a 91 for the round. "And then of course on the next hole I had an eight."
In the first round, Mike Grosdidier shot a 73 to take a two-stroke lead over last year's winner, John Emerson, in the senior championship flight. Jim Hill's 75 has him out front by six strokes in the super senior championship flight.
The final round will be played today at Alvamar with the first tee time set for 9:03 a.m.
Copyright 2018 The Lawrence Journal-World. All rights reserved. This material may not be published, broadcast, rewritten or redistributed. We strive to uphold our values for every story published.