LIBERAL — The instructions from Lori Navarro could come from any coach, on any soccer field in the country.
"Keep your head down," Navarro tells her team. "Don't get under the ball. And Sammy, shoot like you mean it."
But when the Liberal High School Redskins take the field for the last workout before their season opener, the soundscape shifts abruptly on this small patch of southwest Kansas - mirroring the changes that waves of Latin American immigrants have wrought in the area.
Shouts of "Go, go, go!" blend with "Aqui, aqui!" - Spanish for "Here, here!" Players and coaches switch back and forth between the two languages, sometimes in the same sentence.
That English is spoken at all is one of the few indications that the practice isn't taking place in Mexico City or San Salvador. Whether native-born or immigrant, everyone on the roster - players, coaches, even trainers and managers - is Hispanic.
"This isn't suburban soccer," Navarro says with a laugh. "It's a different culture."
It's certainly different from the stereotype of the sport in the U.S.: affluent, elitist, the province of sweater-clad soccer moms in sport utility vehicles. Here, the only blonds on the field are dye jobs, and the smell from the nearby National Beef Packing plant wafts over when the wind comes out of the east.
Recent estimates by the Census Bureau show that Seward County, where Liberal is located, is close to being the first Kansas county with a Hispanic majority, at 49 percent of its 23,237 residents. Garden City and Dodge City, which also have high school soccer teams, also have significant Hispanic populations.
Football is still king here, where thousands attend games on fall Friday nights and Liberal High's trophy cases bulge with gridiron-won hardware dating back seven decades or more. Still, high school futbol is giving kids a chance to connect with their schools and communities.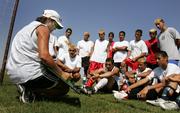 "We are keeping more kids in school because of soccer," said Jim Little, Liberal's principal. "And not only are they in school, but their grades are improving, because they have to meet academic standards."
Navarro, who teaches English as a second language at Liberal High School, could easily conduct all of her practices in Spanish - but has made a conscious choice not to.
"This is like another classroom for me," she said. "I want to make sure the players understand and learn English, and this is another way to do that."
Along with better results in the classroom, Little said, players reap benefits in the hallways as well - especially after Liberal reached the Class 5A state semifinals the past two years.
"People support winners, and they're being recognized more by the student body," he said, "and what student doesn't want to be recognized by other students?"
With the successes, though, come plenty of challenges.
Fan support, while growing, lags behind that for other sports.
Navarro wonders if race might still be a factor. But the more likely culprit, she said, is the way matches are scheduled.
"We play a lot of games at four o'clock on a Thursday," she said. "A lot of people can't get off work then, especially for road games."
Other issues are more closely tied to language and culture.
Navarro has had players miss practice to translate for their parents at the doctor's office.
And she has lobbied for players to take the college scholarship offers that come their way.
"It's not an easy program to coach," she said. "The list goes on and on, of things we deal with other than soccer."
With Dodge City Community College, Garden City Community College and Barton County Community College in Great Bend all fielding teams as a way to increase Hispanic enrollment, the opportunities are there.
But Hispanic families generally are close-knit, Navarro said, and not always keen on having a child leave town for any reason - even a college education.
"It's the culture," she said. "You stay close to home, you get a job and you help out the family."
Copyright 2018 The Associated Press. All rights reserved. This material may not be published, broadcast, rewritten or redistributed. We strive to uphold our values for every story published.