KU coach Mark Mangino somehow restrained himself from slugging Brian Luke after the senior quarterback, while falling backward, lateraled with two hands. The Jayhawks retained possession on the fumble.
If Luke could take back one play, surely that would be it. Right?
"The lateral and the pick," Luke said. "I'll always take the pick back if I could."
Luke has thrown four touchdown passes and three interceptions on the season.
¢ The Jayhawks have six takeaways and four giveaways on the year, after winning that battle, 4-1, Saturday night.
¢ Kansas showed up with "crimson" jerseys Saturday, the first time KU has donned the color since the 1947 season - a squad that included Ray Evans and Otto Schnellbacher. The Jayhawks still had gray pants and blue helmets Saturday. Coach Mark Mangino said afterward that he had a reason for them, and decided to go with them Thursday morning.
Photo Gallery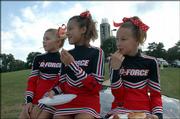 KU vs. Louisiana Tech
¢ The Jayhawks are 3-0 for the first time since the 1997 season, Terry Allen's first as coach at Kansas. That year, KU beat Alabama-Birmingham, TCU and Missouri out the gate and finished 5-6. The last time KU was 4-0 was 1995, when that Glen Mason-led squad won its first seven games.
¢ Senior Tim Allen was back starting at defensive tackle Saturday, after two weeks backing up junior Rodney Allen. Also, junior Travis Dambach started at right guard in place of junior Jake Cox.
¢ Some minor tweaks were seen on a revised depth chart available to media. Marcus Herford now is listed as a backup wide receiver and third-string quarterback. Also, Sadiq Muhammad is listed as second-string free safety behind Rodney Fowler.
¢ Greg Heaggans suited up for the first time this season after not dressing the first two games for personal reasons. Kenneth Thompson returned kicks, though, while Heaggans didn't play.
¢ KU called its first timeout with 9:57 left in the first quarter while on defense, when mass substitutions left the Jayhawks with just nine players on the field as the ball was about to be snapped.
¢ After rushing for 200 yards in its first two games, Kansas had just 41 yards on 32 carries Saturday. Until late in the fourth quarter, KU was averaging less than one yard per rush.
¢ Scott Webb's kickoff following KU's third touchdown plunked off the crossbar of the goalposts. It was one of three touchbacks by the sophomore.
¢ Nick Reid, for the third straight week, led the team in tackles, registering 14. He had five in the first quarter and has 39 tackles in three games this season.
¢ Mark Simmons caught six passes for 106 yards, the first receiver to reach the 100-yard plateau this season. The last Jayhawk to hit the century mark was Brandon Rideau, who had 100 yards against Missouri last season.
¢ Brian Luke took a majority of the snaps, while situational quarterback Herford was in just four plays. In the first half, Herford ran the ball three times for eight yards, then ran an unsuccessful option in the second half before getting pulled in favor of Luke.
¢ Louisiana Tech and KU have met one other time, in 1987, with Tech prevailing, 16-11. It was the last time KU lost to an NCAA Division I-AA team. Tech became I-A in 1990.
¢ Current Kansas City Chiefs All-Pro offensive lineman Willie Roaf played at Louisiana Tech from 1989-1992. Tech's most well-known alum would be former Pittsburgh Steelers quarterback Terry Bradshaw.
¢ Kansas was a perfect 5-of-5 scoring once it reached the red zone. Louisiana Tech was 2-of-4.
¢ Tom Walker was referee and head of the seven-man officiating crew. : Temperature at kickoff was 75 degrees with cloudy skies and the wind was blowing out of the south-southeast at 13 mph. : Attendance was 41,237.=
Copyright 2018 The Lawrence Journal-World. All rights reserved. This material may not be published, broadcast, rewritten or redistributed. We strive to uphold our values for every story published.