The wrinkles need to be ironed out, no doubt - even if the red jerseys never had been worn before.
But Kansas University's football team got exactly what it needed out of its nonconference slate this month: three victories, zero losses following Saturday's 34-14 win over Louisiana Tech.
That's the bottom line for September, and perhaps the Jayhawk optimists should ignore some of what's above it. Saturday's game came with sluggish play early and a running game that looked dismal throughout the night.
Considering the play in run-happy victories over Florida Atlantic and Appalachian State, it can be looked at in two ways: 1) The running game was an aberration against inferior opponents, or, 2) KU simply is finding other ways to win football games.
Photo Gallery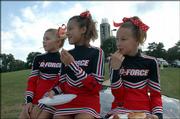 KU vs. Louisiana Tech
After the offense carried KU to a 2-0 record, it was the defense that made it 3-0, registering seven sacks and four well-timed interceptions against the Bulldogs, three inside the Louisiana Tech 30-yard line.
"We knew how good we could be," said linebacker Brandon Perkins, who set a school record with five sacks Saturday. "We came out, worked hard all week and tried to set the tempo for the rest of the year."
Perkins and senior Nick Reid fueled a defense looking for its mental edge after flat play in the first two weeks. It came, and it was needed. Offensively, KU averaged just 1.3 yards per carry on the ground after amassing 200 yards in each of the first two contests.
It couldn't be counted on against the Bulldogs, the scrappiest opponent the Jayhawks have faced to date.
"I think one of the reasons why, without looking at the tape : I think we need to get into the mentality of finishing blocks," coach Mark Mangino said. "That's something that can be taught fundamentally. We'll spend time on that on the practice field this week."
To go with the subpar ground production, quarterback Brian Luke had a poor first-half outing, throwing for just 60 yards and an interception. KU's lone touchdown before halftime was a short pass to Charles Gordon in the flat. Gordon found himself with room to run and no one to beat. The 14-yard strike put KU up 7-0.
Tech tied it before the half, but Mangino said KU didn't once waver in confidence, even with the offense sputtering and Tech right in the thick of things.
"We knew we just had to stay within our game plan," Mangino said. "We came in at halftime and just made adjustments. The kids were calm and poised."
Luke adjusted mentally, finding the productive side that made him the starter after the season opener. He finished with solid statistics: 19-of-31 passing for 236 yards and three touchdowns.
"We were kind of letting the defense do all the work," Luke said. "Our offense has to go out there and make some plays."
The halftime adjustment was the key. Mangino said Louisiana Tech looked "vanilla" in its opener against No. 10 Florida, not revealing much of its scheme because "they didn't believe they could beat them."
It left the Jayhawks with a lot of surprises - and early abuse - they had to take before tweaking their approach.
"I want to give credit to Louisiana Tech. They played inspired football tonight," Mangino said. "They played completely different against us."
Tech's tricks didn't work for the whole game, though, and that's why Kansas is 3-0 with an off week upcoming before eight Big 12 Conference games to close the season.
Go figure
13-13 Rushes-yards rushing for Kansas University in the first half
32-41 Rushes-yards rushing for KU on the day
5 School-record sacks by Kansas' Brandon Perkins
4 Interceptions by the Jayhawks, including two by Rodney Fowler
KU won't play at Memorial Stadium again for 42 days, with three road games and a trip to Kansas City, Mo., to play Oklahoma taking up the next five weeks.
It's by far the toughest stretch of the season for the Jayhawks, but one they enter with an unblemished record.
It was the plan all along.
"We're about where I thought we would be," Mangino said. "I think we're well prepared for conference play and the kind of people we're going to play week in and week out.
"We have to be able to prove now that we can go out on the road and win. I think we can."
Copyright 2018 The Lawrence Journal-World. All rights reserved. This material may not be published, broadcast, rewritten or redistributed. We strive to uphold our values for every story published.