The lifeblood of scholarship and research for Kansas University faculty and students is access to the work of their peers. But that blood flow is constricted at Kansas University.
University officials say they simply can't keep pace with the rising cost of many scholarly journals. It is an issue that has plagued KU and other institutions for years, and the squeeze continues.
"Some publishers, they've gone crazy," said Mohamed El-Hodiri, an economics professor.
Annual subscriptions range from a few hundred dollars to the $20,000 range.
KU is embarking on a three-year serials review this year. An additional $1.1 million over the current budget is needed to keep all the journals the university is currently purchasing. KU is adding $600,000 to what it spends for serials, but that means the university must make $500,000 in cuts to journal subscriptions.
"That's essentially been the trend: Spend more, get less," said Bill Myers, KU's library development director.
Needed tools
Journals are a key tool for doing research.
"No one can do without them," El-Hodiri said. "They're forcing us to pick and choose. How do I know that the one I choose is the one I'm going to need tomorrow?"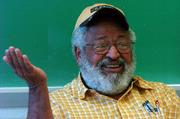 El-Hodiri said the issue has brought him some embarrassment at times. He once was asked to attend an international conference in Vienna. And he was asked to review some research in a journal before the event. But the university didn't have the journal. He ended up having to borrow a copy of the journal while in Vienna.
"I was very embarrassed," he said.
He said journals also are vital for teaching.
"If you don't know what's happening in the research, you cannot teach, or you're going to teach stale stuff," he said.
The Internet
But there may be some hope.
Many institutions are making research available via the Internet. KU has a site called KU ScholarWorks that makes research - finished and unfinished - available to others.
Provost David Shulenburger said these and other initiatives are encouraging.
"Who cares about the price of scholarly journals if the material is available?" he said.
KU also forms relationships with other universities to share journals through interlibrary loan.
"I think institutions like ours have gotten more versatile in trying to cope with the increasing costs of serials," Myers said. "The objective is to try to advance knowledge as quickly as possible."
But more subscription cancellations are on the horizon.
Myers said he hasn't heard much feedback recently from faculty about the problem.
"They're beginning to see it's kind of a business as usual," he said.
Copyright 2018 The Lawrence Journal-World. All rights reserved. This material may not be published, broadcast, rewritten or redistributed. We strive to uphold our values for every story published.