Sao Paulo, Brazil — Amid soaring prices for building materials in the United States caused by Hurricane Katrina, Brazil's wood industry is poised to ramp up production, betting exports to the U.S. like plywood and floor boards could increase $500 million this year alone.
Mexican, Colombian and Chilean manufacturers of cement, bathroom fixtures, windows and ceramic tiles are hoping to tap into huge demand they anticipate will last years as the U.S. Gulf Coast rebuilds following one of America's worst-ever natural disasters.
And many exporters are hoping Katrina could accomplish in short order what Latin American politicians and business leaders have repeatedly failed to do: convince American authorities to reduce or eliminate trade barriers on imports from emerging economies that have been in place for years in some cases.
U.S. officials signaled last week that they may reduce high tariffs on Mexican cement and Canadian lumber, though any such effort would be sure to draw opposition from American lumber and cement producers who contend imports of those products are being sold in the United States at unfairly low prices.
But trade experts believe the U.S. will be forced to reduce the trade barriers for at least a year or two - simply to meet the crushing demand and stem runaway price increases.
"That will mean Canada for lumber, and Latin America also has a lot of the most relevant supplies that are needed in the United States," said Gary Hufbauer, and economist and senior fellow at Institute for International Economics in Washington, D.C. "There will be tariff relief."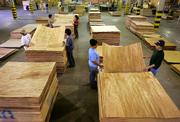 Brazil's wood industry was hurting before the hurricane struck, with manufacturers of everything from wooden doors to window frames reducing production after the U.S. dollar weakened substantially against Brazil's currency and made Brazilian products more expensive in the United States.
But the price of Brazilian plywood, for example, soared from $200 per cubic meter (35.3 cubic feet) before the hurricane struck to $300 last week, said Luis Carlos Barros, president of the Brazilian Wood Industry Assn.
Throughout the pine forests of southern Brazil, plywood makers now are making plans to hire thousands more workers to meet the anticipated increase in U.S. demand. The association had predicted 2005 exports of Brazilian wood products to America would hit about $2.5 billion before the hurricane, but has revised the figure since then up to $3 billion.
Later this month, the group will try to convince U.S. officials to lift an 8 percent tariff on Brazilian plywood imposed in July - using the hurricane's impact as justification.
"If we can get rid of this tax, it will be cheaper for people who lost their homes to rebuild," Barros said.
Barros also hopes a victory would lead to a permanent elimination of the tariff as consumers get accustomed to Brazilian plywood.
"I don't see why we should have this tax over the long term," he said. "Sure, the American companies don't want the competition, but the American distributors like our product."
Hufbauer and other trade experts doubt any temporary trade openings will last forever.
"As American industries come back on line, I expect the U.S. policies will come back on line," said Peter Morici, an economist at the University of Maryland and former chief economist of the U.S International Trade Commission.
Latin American exporters, he added, should only expect "a year or two of money," he said. But he agreed exporters likely would make big money during that period.
In Mexico, Cemex SA - the world's third-largest cement company - likely will reap the most profits as it lobbies the U.S. government to get rid of an antidumping tariff in place for nearly a decade.
Negotiations to reduce or eliminate the 54.97 percent tariff started before Katrina, but have intensified as demand for concrete rose after the hurricane.
Carlos Gonzalez, an analyst for the brokerage arm of Ixe Grupo Financiero SA in Mexico City, said eliminating the tariffs would save Cemex $32 per ton of concrete. He said the tariff didn't make any sense anymore, because much of Cemex's concrete is produced in the United States.
Copyright 2017 The Associated Press. All rights reserved. This material may not be published, broadcast, rewritten or redistributed. We strive to uphold our values for every story published.