FIRST QUARTER
:48 - Charles Gordon 14 pass from Brian Luke. An excellent punt by Kyle Tucker pinned Louisiana Tech inside its own one-yard line, and after three plays, the Bulldogs were forced to punt, only managing a 27-yard quick kick. Luke found Brian Murph for a 13-yard gain, and on the next play Luke found Gordon on a swing pass out of the slot position, and after avoiding one Bulldog, Gordon scooted in for six. Scott Webb kick. (Kansas 7, Louisiana Tech 0).
SECOND QUARTER
7:24 - Anthony Harrison 3 pass from Matt Kubik. The Bulldogs orchestrated an 11-play, 78-yard drive with positive yardage on every play. An 11-yard scramble by Kubik put Tech within three, and a play-action pass to Harrison put Tech on the board. Danny Horwedel kick. (Kansas 7, Louisiana Tech 7).
Photo Gallery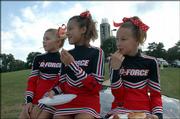 KU vs. Louisiana Tech
THIRD QUARTER
6:33 - Derek Fine 4 pass from Brian Luke. With the run game continuing to sputter, KU took to the air. Luke found Mark Simmons for completions of 28 and 23 yards, and once in the red zone, Luke found Fine in the right side of the end zone for the score. Webb kick. (Kansas 14, Louisiana Tech 7).
FOURTH QUARTER
14:03 - Brian Murph 6 pass from Brian Luke. A Theo Baines interception, coupled with a Louisiana Tech penalty after the play, started the Jayhawks' lightning-quick drive just seven yards from the end zone. After a one-yard gain by Clark Green, Luke found Murph in the back of the end zone on a quick pass for six. Webb kick. (Kansas 21, Louisiana Tech 7).
12:57 - Jon Cornish 1 run. Credit another timely takeaway for another score. A Kubik pass was deflected by Gordon and picked by Aqib Talib. Just 30 yards away from the end zone, Luke found a wide-open Simmons for the first 29, then an option right to Cornish made for an easy one-yard touchdown. Webb kick. (Kansas 28, Louisiana Tech 7).
10:06 - Freddie King 15 pass from Kubik. Louisiana Tech marched 80 yards downfield on just eight plays to answer KU's scoring splurge. The last play was a bullet pass between the hashes that King caught while falling in the end zone. Horwedel kick. (Kansas 28, Louisiana Tech 14).
4:52 - Scott Webb 47 field goal. A 12-play, 50-yard drive progressed with two shovel passes to Jon Cornish of 14 and 18 yards, and a screen pass to Clark Green for 10 yards. The Jayhawks were going to go for on fourth-and-one, but a false start penalty moved them back five yards. Webb kicked the career-long field-goal, barely getting it over the crossbar. (Kansas 31, Louisiana Tech 14).
1:41 - Scott Webb 24 field goal. A Rodney Fowler interception put KU in great field position again, and after two strong runs, the drive sputtered, allowing Webb to boot his second field goal. (Kansas 34, Louisiana Tech 14).
Copyright 2018 The Lawrence Journal-World. All rights reserved. This material may not be published, broadcast, rewritten or redistributed. We strive to uphold our values for every story published.