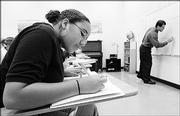 Parents in Lawrence and the surrounding areas may be interested in what educational alternative are available for school-age children. Here's a roundup of local options:
Bishop Seabury Academy, 4120 Clinton Parkway, 832-1717
The school, which opened in 1997, serves about 130 students in grades 7-12. It offers a challenging college preparatory curriculum, headmaster Chris Carter said. All students in grades 7-8 are required to study Latin, Carter said. They are required to take a total of three high school years of a language.
"I think all of our academic offerings are very solid," Carter said.
He said, for example, history students write a lot more than in other schools, and in the science lab, there is an emphasis on hands-on instruction. All students have a faculty adviser.
"It's our belief that every student needs to be personally known by his or her teachers," Carter said. "Our goal is to provide very individualized instruction and support."
The school has grown steadily since its opening. Carter said the ultimate goal was for the school to serve about 180 students.
Tuition is $683 per month, with a 10 percent discount for a second child and a 20 percent discount for a third child.
Century School, 816 Ky., 832-0101
This small school at 816 Ky. prides itself on its individualized instruction and unique teaching, said Tracie Mann, a managing teacher. Teachers act more like coaches or tutors to students, who are quite independent, Mann said.
The school has been open for 11 years.
Century has 23 children in its preschool program and 49 in its elementary program for grades K-6. The school has four sections at the elementary level, with each class including a mix of age ranges from 5-12.
Tuition is $475/month with a 5 percent discount on the total cost for families with more than one child attending the school.
Lawrence Catholic School, St. John's campus at 1208 Ky., 843-9511, and Corpus Christi campus at 6001 West Bob Billings Parkway, 331-3374
The school opened in 1956 and in 2000 expanded to a second campus on Bob Billings Parkway. The St. John campus serves students in grades K-6. The Corpus Christi campus, which serves students in K-5, will add a sixth grade next year. There are about 440 students attending.
There is Mass once a week and religion class once a day.
The school this year launched a school uniform policy.
"The kids look really nice and neat and clean-cut, but they all look a little different," said Patricia Newton, the school's principal. "They look like children."
Tuition is $3,900 per year per student for those who do not belong to the parishes. For those who are members, tuition is included in donations to the church.
Veritas Christian School, 256 N. Michigan, 749-0083
The school, once known as Douglas County Christian School, opened in 1980. Veritas is a nondenominational Christian School. It follows the classic approach, administrator Jeff Barclay said.
"We teach the grammar of all subjects," Barclay said.
Teaching of the Bible is integrated into lessons.
Barclay said the school approached subjects with a more absolutist point of view.
"The Bible is authoritative in the things it talks about," he said. "There are clear right and wrongs."
Class sizes are small. The school graduated two seniors in 2005.
Tuition depends on age. Tuition costs $413/month for students in grades 9-12; $375/month for grades 7-8; $325/month for grades 1-6; and $183/month for half-day kindergarten. There is a $60 registration fee.
Lawrence Virtual School, 2145 La., 832-5620
Students from Lawrence and across the state can attend Lawrence Virtual School, a school that offers courses online for students in grades K-12.
Students follow lessons online from any remote location. But they also can stop by the school, located in Centennial Learning Center at 2145 La.
Principal Gary Lewis said the school's key offering was flexibility for students.
"This environment allows them to be in their home office or home environment and focus strictly on their education and not anybody else's," he said.
The school opened in 2004 and expanded recently to offer programs for high school students. The school offers course recovery for students who need to review part of a course they failed or didn't learn sufficiently in another setting. The school also offers course acquisition for students who want to take full courses to complete high school requirements.
The school currently serves about 400 students and 100 in course recovery programs.
Fees are $43.50/year for kindergarten and $97/year for grades 1-12. Course recovery costs $85. Course acquisition costs $150 per semester credit.
Copyright 2018 The Lawrence Journal-World. All rights reserved. This material may not be published, broadcast, rewritten or redistributed. We strive to uphold our values for every story published.