Not much separates No. 6-rated Florida and unranked Kansas ... at least on the defensive side of the football.
That's the opinion of Louisiana Tech coach Jack Bicknell, whose Bulldogs (0-2) were stuffed by the Jayhawks, 34-14, on Saturday night at Memorial Stadium -- one week after a 41-3 grilling by the Gators in Gainesville, Fla.
"I think very well," Bicknell said, asked how the Jayhawks' attacking defense -- which sacked QBs Matt Kubik and Donald Allen seven times -- stacked up with the Gators' unit, which recorded two sacks a week ago.
"They came hard. We just couldn't seem to block them, to be honest with you," Bicknell said of the Jayhawks. "I felt we could block Florida a little better, but we couldn't get our receivers open. Tonight, I felt we didn't protect as well, but were able to get a few more receivers open.
"They are both very good teams."
Kubik, who played the second and fourth quarters, threw for 186 yards and two touchdowns, but also was picked off twice.
Photo Gallery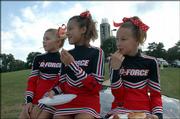 KU vs. Louisiana Tech
"Florida is obviously a top-10 team," said Kubik, who completed 18 of 32 passes. "Kansas has a couple of guys on their defense who could play at Florida athletically, a couple D-ends and obviously No. 3 (defensive back Charles Gordon). They could play at Florida if they wanted to.
"I think they are a great team. I think they'll surprise some Big 12 teams this year. They definitely have the athletes to do it. If they can put it together, they will surprise some people."
Bicknell, who felt his defense did a good job against the Jayhawks (3-0) except against the screen pass -- "I'll see that little back screen in my sleep the next two weeks," he said -- compared the Jayhawks favorably with some big-name teams the Bulldogs have played in his six years at the Ruston, La., school.
His squad has beaten the likes of Michigan State, Oklahoma State, Fresno State and Alabama.
"We've played a lot of people in the past however many years ... I was very impressed," Bicknell said.
He still is not enamored enough with either of his quarterbacks to pick one heading into Western Athletic Conference play.
Allen, who played the first and third quarters, completed eight of 14 passes for 71 yards with two interceptions. He was victimized for five sacks.
"It's not a situation you are necessarily looking for," Bicknell said of using two QBs. "We need to figure out who gives us the best chance to win. It's just not fair ... if you've got two senior quarterbacks and feel both can contribute, I don't think it's fair to make a decision just so everybody gets off my butt. They'll be on my butt anyway."
Kubik sounds like he wants one QB to get the call before long.
"It's tough to really get in a rhythm," he said. "It's hard to come in, play the second quarter and sit the third quarter. It takes you out of rhythm a little bit. I thought we handled it decently. I think coach Bicknell is going to have to make a decision."
The Bulldogs were not despondent after the game, admittedly because they were just happy to play a game in the aftermath of Hurricane Katrina.
The Tulane football team has moved to Ruston -- home of the Bulldogs -- and is using La. Tech's facilities.
"Some of our guys' families ... this is what they look forward to. We go out to play for those people," Kubik said. "We've got 10, 12 guys who lost everything. Their families are OK, but their houses are under water (in New Orleans area; Ruston was not affected). It's kind of nice to get away from the TV, come out here and focus on the game."
"I thought it might help lessen the hurt of a loss a little bit. It doesn't; what it does it make you see what's really important in life," Bicknell said. "It lets you know what is really important."
Copyright 2018 The Lawrence Journal-World. All rights reserved. This material may not be published, broadcast, rewritten or redistributed. We strive to uphold our values for every story published.