With home prices continuing to climb throughout Lawrence and mortgage interest rates inching up from their market lows, prospective homebuyers already found themselves with enough to worry about when making plans for a move.
Then fuel prices spiked above $3 a gallon.
Hurricane Katrina wiped out some 275,000 homes along the Gulf Coast.
And Lawrence homebuilder Frank Salb starting doing the math.
"I'm getting price increases weekly," said Salb, who's building more than a dozen homes in Lawrence these days. "It's on everything. On Sheetrock. The guys that supply my shower doors and mirrors, they're charging me a fuel surcharge of like 5 percent. Excavating - he has like a 5 percent surcharge going on all his equipment. I don't even know what lumber prices have done yet."
He shrugged.
"I'm looking at probably another $3,000 to $4,000 increase on a house that I'm starting right now, and I don't know what other price increases I'm going to have at this point," Salb said. "I don't know what's going to happen to me in the next five months. It's not looking good."
Material costs - for everything from cement that binds concrete in the basement to fuel used for asphalt shingles on the roof - are rising in Lawrence and across the country, and that has already-skittish builders worrying about their ability to keep projects affordable.
The increases will add about $10,000 to the cost of what would have been a $200,000 home, area builders say, and will be expected to pile even stiffer increases on to larger office, commercial and industrial projects.
Builders fear that a local construction market, already curbed during the past year by residential oversupply, commercial inactivity and planning uncertainty, now faces an even more volatile future, one overcast by sky-high fuel prices and inevitable supply problems prompted by hurricane rebuilding efforts.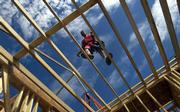 "You can't take three states and wipe out ... half a million homes or a million homes or whatever and have it not affect the inventory supply of building materials," said Doug Compton, a Lawrence-based developer and property manager for commercial office and residential projects in Kansas and several other states. "As prices continue to go up ... if it's a dramatic increase, I think it will have a huge impact on new construction."
Even before the fuel spike and hurricane damage, Lawrence's market was in a slowdown.
Market down
City officials issued 720 permits during the second quarter, down 4 percent from a year earlier. Their total value was $26.7 million, down $11.7 million - or 30 percent - from the same period a year ago, a year that limped in with the lowest annual construction valuation in a decade.
Residential construction has been especially slow. The city issued only 55 residential permits during this year's second quarter, a third fewer than the same period of 2004. Valuation of the new residential construction during the quarter added up to $8.3 million, which was down $5.9 million, or 42 percent, from the second quarter of 2004.
Even with numbers beginning to turn around in August - the city granted 30 permits for new homes, up from 26 a year ago and the most since August 1995 - builders are worried that the rising cost of materials will hinder their efforts even more.
After Hurricane Andrew swept through south Florida and the Louisiana coast in 1992, plywood prices jumped nearly 50 percent - from $222 to $321 per 1,000 square feet, according to the National Association of Home Builders. Prices for southern framing lumber had increased 17 percent.
Katrina's effects could be even more pervasive. The Port of New Orleans was the top destination in the United States for imports of cement and several other building materials, the association said, which could lead to supply problems beyond a rise in demand for reconstruction efforts.
Heath Seitz, president of the Lawrence Home Builders Assn., figures that it will be another three or four months before the full financial effects of Katrina's damage will be evident to area home builders.
But he knows there will be increases, because they've already started to arrive. Some suppliers already have stopped quoting long-term prices for selected products, and fuel surcharges are becoming the norm for companies delivering large equipment and materials.
Seitz is paying $25 extra each time one of his interior-finish suppliers makes a trip from Harrisonville, Mo. Loads of concrete cost him an extra $1.50 a yard - that's another $150 to $225 for a typical house - to cover the supplier's fuel costs.
'They add up'
As the fuel surcharges continue to flow into his office - "It takes fuel to get everything to the job," Seitz said - he worries what they will mean for his customers downstream.
"These are small increases, but at the end of the project they add up," said Seitz, owner of Heath Seitz Construction Inc. "You're talking about a significant increase on the cost of construction ... and we have to pass that along to the homebuyer."
Six months ago, Seitz was pricing the homes he was building - four bedrooms, 3.5 baths, two-car garage and a basement - at $219,000. Now, he said, they're listing for $229,000.
In six months, he said, they likely will be even higher.
"The bottom line is, I don't think that these increases are so threatening that people will quit building houses," he said. "But I think, more than anything, that people might be a little more cautious before they go out and make a major purchase."
Lawrence has shown an ability to weather such cost increases before, Seitz said, and he expects the same resilience to endure in the face of challenges from high fuel prices and ominous hurricane-reconstruction pressures.
Salb sure hopes so.
"We haven't sold very much over the last 60, 90 days," Salb said. "You'd like to think the market would just work itself out."
Copyright 2018 The Lawrence Journal-World. All rights reserved. This material may not be published, broadcast, rewritten or redistributed. We strive to uphold our values for every story published.