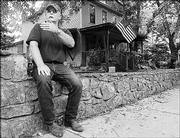 Ted Boyle, a 45-year resident of North Lawrence, says his neighbors share a common trait - they pay attention.
"We know each other and we respect each other over here," Boyle said. "And the big thing is, we just keep an eye on what's going on over here."
Boyle may be the chief watchdog these days. For the past 10 years, he's served as president of the North Lawrence Improvement Assn., one of the more active neighborhood associations in the city.
The association, which technically has about 80 paying members, serves as the voice at City Hall for the approximately 2,000 North Lawrence residents. Boyle said he usually talks to City Manager Mike Wildgen or a commissioner once a week about subjects ranging from storm water to stop signs.
"Without a strong neighborhood association, a lot of times the city would not have the representation they need from a neighborhood to make good decisions," Boyle said. "I'm kind of the messenger for the residents over here."
Neighborhood groups
Here's a list of Lawrence neighborhood associations and contact information about how to join: Barker Neighborhood Assn., Emily Wellman, 841-3263; Breezdale Neighborhood Assn., Michael Sizemore, 843-7484; Brook Creek Neighborhood Assn., Julie Banhart, 841-4997; Centennial Neighborhood Assn., Jerry Schultz, 841-4143; East Lawrence Neighborhood Assn., Janet Good, 423-3323; Gateway Neighborhood Assn., Steve Schwada, 842-4454; Hillcrest Neighborhood Assn., Tripp Anderson, 842-3777; Hills West Homes Neighborhood Assn., Shirley Barrand, 842-8920; Indian Hills Neighborhood Assn., Jeanne Ellermeier, 843-8514; Lawrence Association of Neighborhoods, Gwen Klingenberg, 838-9197; Meadows Place Homeowners Assn., Jan Roberts, 843-8547; Monterey Homeowners Assn., Joan Brunfeldt, 841-0037; North Lawrence Improvement Assn., Ted Boyle, 842-7232; Oread Neighborhood Assn., Jodi Wente, 842-5440; Park Hill Neighborhood Assn., Michael Pomes, 842-5709; Perry Park Neighborhood Assn., Jim Pelham, 842-8660; Pinckney Neighborhood Assn., Steve Braswell, 841-6902; Prairie Park Neighborhood Assn., Danny Drungilas, 838-3858; Quail Ridge East Homes, Joe Collins, 749-3467; Quail Run Neighborhood Assn., Michael Fink, 842-6542; Raintree Neighborhood Assn., Nancy Hambelton, 843-2508; Southern Parkway Townhomes, Doris Reasoner, 842-2290; Sunflower Neighborhood Assn., Neva Wilson, 832-1150; Sunset Hills Neighborhood Assn., Paul Markham, 749-7390; University Heights Neighborhood Assn., Carol Hatton, 841-5970; University Place Neighborhood Assn., Kim Kreicker, 838-4206; West Hills Neighborhood Assn., Steve Six, 865-0755; West Lawrence Neighborhood Assn., Alan Cowles, 865-5848; Western Hills Neighborhood Assn., Carmela Sibley, 841-4560; Westwood Homeowners Assn., Todd Thompson, 842-1931.
Having a strong neighborhood association generally is good for any neighborhood, but North Lawrence residents said it might be particularly important for their neighborhood. That's because the neighborhood, which is strongly characterized by the Kansas River and the railroad tracks that carry 70 to 80 trains per day through the area, may be the most unique neighborhood in the city.
"The issues that make North Lawrence problematic also are some of the same issues that make it attractive to the residents," said Bob Moody, a North Lawrence resident and former Lawrence mayor. "That's why it is really important to talk to the residents."
For example, several years ago city officials were considering widening streets and adding modern curbs and gutters to the North Lawrence area, projects that many neighborhoods would consider improvements. But North Lawrence residents, through the association, stopped the plan because they didn't want to lose their mature street trees, and they feared the added concrete would worsen flooding problems.
Boyle says the association also becomes proactive in trying to get projects started in North Lawrence. The association has been a longtime advocate for a grocery store and a fire station to locate in North Lawrence. Thus far, those efforts haven't produced results. But the association has had success in other areas, including the launching of a $282,000 study of the area's flooding problems. Plus, Boyle is optimistic that City Hall will reach an agreement with federal officials to create a "quiet zone" that will allow trains to travel through the area without blowing their whistles at each crossing.
Boyle also is hopeful that city planners eventually will adopt new development guidelines for North Lawrence to reduce the number of homes that can be built on a single acre. The reduction likely would help control future flooding in the neighborhood, he said.
"Hopefully they will pay heed," Boyle said. "It probably will make the developers and the realtors upset, but that's too bad."
Boyle said that the neighborhood association tried to work with developers and builders but wants to make sure that future development helps the neighborhood keep its character, because that is often what attracts people to the area.
"This is a special, unique place," Boyle said. "It is like a small, rural community - except we're close to downtown."
Copyright 2018 The Lawrence Journal-World. All rights reserved. This material may not be published, broadcast, rewritten or redistributed. We strive to uphold our values for every story published.