Houston — In the latest crackdown on Katrina-related fraud, police officials Friday vowed to "nip in the bud" attempts by people illegally to obtain Red Cross aid with phony stories of being hurricane victims or by seeking a second payment.
Police Chief Harold Hurtt said he has assigned undercover officers - some posing as Red Cross volunteers - to look for people attempting to cheat the system by using phony names and other deceptions to obtain a Red Cross debit card, worth as much as $1,560.
For several days, thousands of evacuees have formed long lines at St. Agnes Baptist Church, where the Red Cross is interviewing applicants for aid.
Hurtt said 25 arrests have been made and more are expected. In one case, a 16-year-old boy attempted to get a debit card by claiming he was the head of a household and had four children.
Some of the people arrested were seeking a second card while others had dubious claims of being victimized by the hurricane.
Photo Gallery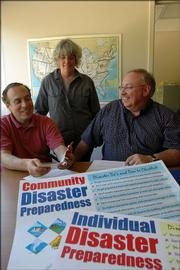 Hurricane Katrina
"We're taking a zero tolerance position on this issue," Hurtt said.
Federal officials have announced the nationwide Hurricane Katrina Fraud Task Force to focus on other fraudulent schemes, including phony charities, identity theft, inflated or bogus insurance claims and attempts to rip off the Federal Emergency Management Agency.
The FBI is reviewing more than 4,000 Web sites claiming to be soliciting donations for Katrina victims. Of more than 2,000 examined, about 60 percent are foreign, raising suspicions about their legitimacy, officials said.
Dozens of fraud inspectors from the Department of Homeland Security have been dispatched to the Gulf Coast to oversee how federal money is spent in the recovery effort.
And Katrina victims have been warned to watch for unlicensed contractors and other schemers and not to count their money in public if they use their Red Cross or FEMA card to obtain cash.
Scams are common after disasters as victims struggle to repair their lives and the public rushes to provide assistance. The Katrina disaster might prove to spawn more scams and schemes than any disaster in history because of its enormity, officials said.
Red Cross and FEMA officials concede that given the large number of Katrina victims who fled with little or no money or documents, it is nearly impossible to thoroughly check their background before providing an emergency allocation.
Copyright 2018 The Lawrence Journal-World. All rights reserved. This material may not be published, broadcast, rewritten or redistributed. We strive to uphold our values for every story published.