New Orleans — In a big step toward restoring the pulse and soul of New Orleans, the mayor announced plans Thursday to reopen over the next week and a half some of the Big Easy's most vibrant neighborhoods, including the once-rollicking French Quarter.
Photo Gallery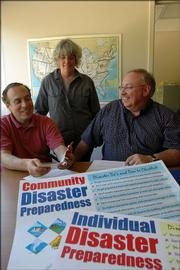 Hurricane Katrina
The move could bring back more than 180,000 of the city's original half-million residents and speed the revival of its economy, which relies heavily on the bawdy, Napoleonic-era enclave that is home to Bourbon Street, Mardi Gras, jazz and jambalaya.
"The city of New Orleans ... will start to breathe again," a beaming Mayor Ray Nagin said. "We will have life. We will have commerce. We will have people getting into their normal modes of operations and the normal rhythm of the city."
Nagin said the "re-population" of the city would proceed ZIP code by ZIP code, starting Monday in the Algiers section, a Creole-influenced neighborhood across the Mississippi River from the French Quarter. The city's Uptown section, which includes the Garden District's leafy streets and antebellum mansions, will open in stages next Wednesday and Friday. The French Quarter will follow on Sept. 26.
"The French Quarter is high and dry, and we feel as though it has good electricity capabilities," the mayor said. "But since it's so historic, we want to double- and triple-check before we fire up all electricity in there to make sure that ... if a fire breaks out, we won't lose a significant amount of what we cherish in this city."
The plan came a day after government tests showed that New Orleans' putrid air is safe to breathe, even if the receding floodwaters that still cover half the city remain dangerous from sewage and industrial chemicals.
Copyright 2018 The Associated Press. All rights reserved. This material may not be published, broadcast, rewritten or redistributed. We strive to uphold our values for every story published.