A Lawrence Red Cross worker ordered to return home from Mississippi on Monday said she was upset because assistance wasn't being provided to a rural area near Gulfport, Miss.
Jill Powell, 51, also criticized the Red Cross, saying volunteers were being sent to work in areas devastated by Hurricane Katrina without adequate training.
"They are probably doing the best they can, but there is just so much chaos down there," Powell said. "They know now they were not prepared."
Moreover, Powell said, Red Cross volunteers are being sent to the region and then waiting as long as three days before receiving an assignment.
Powell was sent first to Montgomery, Ala., on Sept. 7 and then drove a supply truck to Gulfport, Miss. Powell said she was involved with food distribution in the region. She claimed food continued to be given out to people in Gulfport even though electricity had been restored and grocery stores had reopened.
Powell also said she learned about a rural area where residents had not received assistance and needed food. She became upset with her supervisor when nothing was done to immediately remedy the situation. Her supervisor then ordered her home and security escorted her to the airport, she said.
"It is utter, utter chaos down there," Powell said.
Powell said she thinks some Red Cross workers are being allowed to stay in the region too long.
Photo Gallery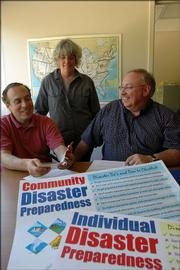 Hurricane Katrina
"I think they become insensitive and they thought I became too sensitive," Powell said.
American Red Cross officials referred questions to Jane Blocher, executive director of the Douglas County Red Cross chapter. Blocher said she regretted Powell was upset. She said the first concern was always the care of clients, staff and volunteers.
"Sometimes an event of this magnitude is emotionally overwhelming to even our most experienced staff and volunteers," Blocher said, noting that this was Powell's first disaster assignment. "When we recognize that a volunteer is overwhelmed, we allow them the opportunity to leave their assignment and return home to be with their families."
Blocher said she wasn't going to try to answer the complaints Powell leveled against the Red Cross because she was not at Powell's work site. She did say, however, that none of the Douglas County volunteers sent to the Gulf Coast were lacking in the required training for their work. She said the other volunteers had said their experiences had been positive.
Powell was one of five Douglas County volunteers in the Gulf Coast area, Blocher said. Two more volunteers will be going in the next few days, she said.
Copyright 2018 The Lawrence Journal-World. All rights reserved. This material may not be published, broadcast, rewritten or redistributed. We strive to uphold our values for every story published.