The 10th season-opener was a charm for South Junior High coach Willie Brown.
"This is a great way to start off my 10th season with a strong victory by such a good squad," said Brown, whose South Eagles defeated the Central Colts 21-6 Sunday at Youth Sports Inc.
"This is a positive win to build on as we begin the season."
Both the Eagles, in yellow, and the Colts, in maroon, came out strong defensively holding each other scoreless in the first quarter. Colts linebacker and running back Brian Proctor Jr. and Eagles running back Adam Taylor were the difference-makers on the offensive side of the ball.
"Proctor Jr. showed my guys that a lack of tackling won't get the job done," said Brown, who has been around since the seventh-grade league's inception. "The lesson we learned is they need to stick people instead of just trying to arm tackle them."
On the first drive of the game, Central turned the ball over on downs after Proctor Jr. fell just shy of the first-down marker.
Alex Laughlin was at quarterback for South and handed the ball off to Taylor early and often, as he picked up three first downs before penalties nearly halted the drives. Taylor kept the drive alive on a fourth-and-5 powering his way to the 4-yard line before taking the ball in for a touchdown with 5:42 showing in the second quarter. Jonathan Pederson converted the extra point for a 7-0 Eagles lead.
The Colts began their next drive on the 39-yard line, but didn"t get far before they turned it over on downs.
Penalties and a strong Colts run defense killed South's ensuing drive.
But the Eagles caught a break despite a botched punt snap, because the kick fell into a bunch of Colts, and the Eagles recovered the football. South couldn"t stick another score into the end zone before halftime, so its 7-0 lead stood.
South resumed its rushing attack in the third, and Taylor quickly picked up where he left off, running for a 32-yard touchdown and a 14-0 advantage.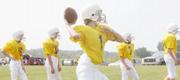 Central wouldn"t go away easy though.
Proctor Jr. showed his rushing skills, taking over the Colts" next drive as he broke free from a swarm of tacklers for a 49-yard scoring jaunt. But Central missed the extra point and trailed by 8.
It seemed Brown's experience and South's preparation came in to play as 90-degree heat wore on both squads in the fourth. Pederson and Chris Gaston made a pair of great blocks to spring Aaron Gile to the outside, as he outlasted Eagles defenders in a foot race to the end zone.
The touchdown and a fumble on the Centrals following drive sealed the game for South, which almost added another insurance score.
Brown said he was pleased with his teams hard work in practice in preparation for its season-opener.
"Even though penalties almost halted a few of our drives, the kids showed they could work through their mistakes and get the ball into the end zone," Brown said.
Central coach Don Hicks said fatigue was a big factor, as well as inexperience.
"We have a smaller team than the other seventh grade teams in the league," Hicks said. "We haven't been able to practice 11 on 11, so for us this was our first real practice with good blocks and great runs. I know the team will get better. We can compete with these guys."
The Colts will get a chance at a rematch, and fans of both teams will get another shot to see the two great running backs go head-to-head again when the two teams meet on Oct 9 on Field 5 at Youth Sports Inc.
Copyright 2018 The Lawrence Journal-World. All rights reserved. This material may not be published, broadcast, rewritten or redistributed. We strive to uphold our values for every story published.