Rafah, Gaza Strip — Fifteen-year-old Mahmoud Barbakh's first dip in the salty sea was "the sweetest thing in the whole world."
The boy grew up only minutes from the Mediterranean. But the beach was restricted to Israeli settlers, and he never jumped in the water until the fences and restrictions came down Monday.
Mahmoud was one of Gaza's 1.3 million Palestinians who got their first taste of freedom after Israeli troops left the coastal strip. They took full possession of the territory for the first time following hundreds of years of subjugation by the Ottoman Empire, the British, the Egyptians and finally the Israelis.
"These are days of glory," Palestinian leader Mahmoud Abbas declared.
Hundreds of people scaled the border fence and entered Egypt, raising Israeli concerns about whether Palestinian and Egyptian security can control the territory.
For one day, euphoria poured over this overcrowded and economically depressed sliver of land.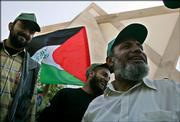 "Since last night, I have been in the street, for no reason, just to breathe the air of freedom," said Samir Khader, a farmer in northern Gaza who had needed permits to go in and out of his village, flanked by Jewish settlements.
Important issues lie ahead, including a decision over who will control the border crossing between Gaza and Egypt.
Abbas raised a Palestinian flag over the Rafah border crossing to Egypt. The crossing remained closed; Israel shut it last week, and the Israelis and Palestinians have not reached agreement on whether it will be reopened.
Concerned over increased weapons smuggling, Israel initially hesitated to leave the Gaza-Egypt border as part of the pullout. It agreed only after the Egyptian government promised to deploy 750 troops.
But the border turned to chaos just hours after the Israelis withdrew early Monday, with hundreds of Palestinians climbing over the towering wall on the Gaza side and then jumping over the low wall on the Egyptian side. Hooded Palestinian gunmen stood atop the Palestinian wall.
Copyright 2018 The Associated Press. All rights reserved. This material may not be published, broadcast, rewritten or redistributed. We strive to uphold our values for every story published.